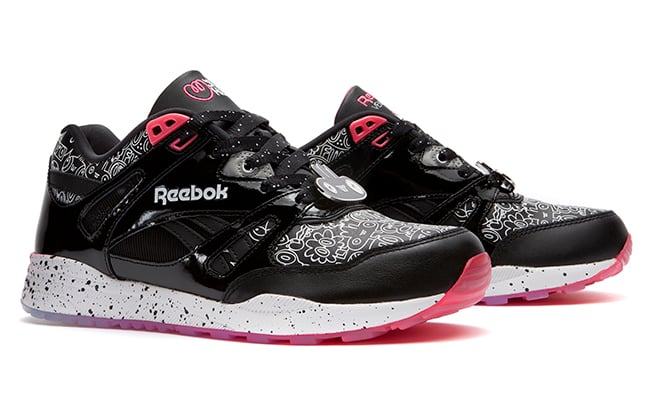 Reebok Classic presents the first collaboration in a series of promising partnerships with up-and-coming Russian illustrators. Yeka Haski, a young artist from Saint Petersburg with her unique vibrant style, has been commissioned to work on the Reebok Ventilator celebrating the 25th anniversary this year. Yeka has teamed with Reebok Classic to design shoes for active and starry-eyed girls like her.
The Yeka Haski x Reebok Ventilator is made of opaque and patent leather in black/white/pink colors with traditional mesh inserts for ventilation on each side. The toe and heel have a unique design featuring funny cartoon characters – this being the signature technique of the artist, who is famous for her ambient fantasy worlds. These stylish shoes are designed to share some magic and fantasy mood with their female owners.
Reebok Classic supports talented artists all over the world: this collaboration with the popular brand enables budding artists and designers from different countries to make a name for themselves and their work at a global scale. Yeka Haski is among the first artists from Russia to be invited to work with Reebok Classic.
Yeka Haski is a female artist and illustrator who specializes in doodle-art and is a resident and speaker of the Berlin-based Pictoplasma festival. The Neo-primitivist worlds Yeka creates in her artwork, graffiti, toys, things for daily use, food and spaces overflow with funny fantasy creatures, non-trivial geometric forms and one-of-a-kind childlike patterns.
The Reebok Ventilator x Yeka Haski Limited Edition retails at $124.99/€125 and will be available from November 1st for purchase in Reebok and Reebok Classic retail outlets in select retailers and available globally on December 1st.