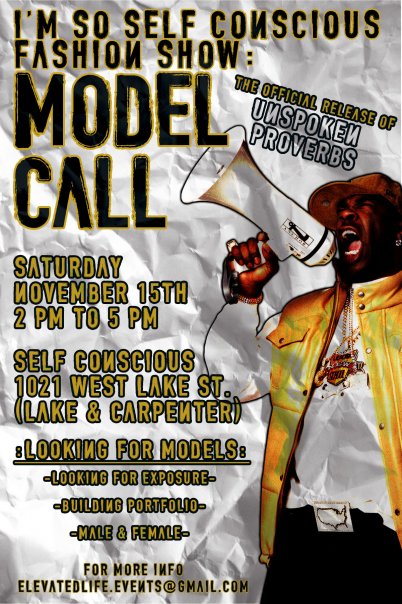 On December 5, when the snow has hit the ground and the windchill has left your digits near frost bitten, Self Conscious will be providing HEAT. when T-shirt and apparel line Unspoken Proverb will be making it's official release. Some of the highlights of the night will include DJ TIMBUCK2, featured designers ENSTRUMENTAL PHARAOH GUARD & MORE.
To help kick off the event, Unspoken Proverbs is hosting, I'M SO SELF CONSCIOUS FASHION SHOW
MODEL CALL at Self Conscious on Saturday November 15, from 2-5pm for professional individuals looking to build their portfolio, gain exposure and ready to network. You don't want to miss being a part of this.
More after the JUMP!!!!!!! 
For more info, you can contact [email protected], call (312) 719-4692, or (773) 835-1986
Self Conscious
1021 West Lake St.
By Oscar Castillo and Chris Cason
www.myspace.com/wreckinkickz