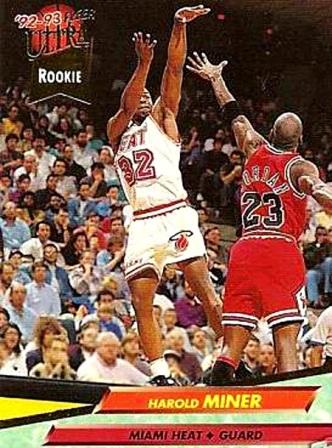 Debuting during the ABA's All Star Weekend in 1976 and then coinciding with the NBA's February festivities in 1984, the Slam Dunk Contest (presented by Sprite) has remained a tantalizing appetizer for the featured All-Star Game. Throughout the years, adoring fans have seen Vince Carter go between-the-legs, Michael Jordan Kiss-the-Rim and jump from the free throw line, and Dwight Howard transform into a Superman alter ego. These aerial exploits prompt the inevitable discussion—who's the best dunker? Who had the most panache and swagger? How has the slam evolved throughout the decades? Over the course of the next ten weekdays, we'll explore the "Evolution of the Dunk" and some of the best airmen to ever pilot ten feet above the rim.
Hailing from the mean streets of Inglewood, California, Harold "Baby Jordan" Miner set the NBA environment aflame with his relatively unassuming 6'5", 210 lbs. frame. Before his glory days in "The League", Miner spent three years at USC torching Pac 10 comp en route to earning career averages of 23.5 points and 5.4 rebounds per game. Baby J was drafted 12th overall in the 1992 overall draft and averaged a modest 9.0 ppg over the course of his four year NBA career. (Pretty middling numbers for a player with such an ostentatious nickname, huh?) However, it was the Sprite NBA Slam Dunk Contest where Harold's star shone brightest—he won the high flyin' extravaganza in 1993 and 1995.
So how'd Miner manage to claim the gold twice? Simple—fluidity, grace, and authority. When Harold flew, fans dreamt of a reincarnated Michael Jordan, thunderously dunking one home in gravity-defying fashion. His go-to moves in '93 and 1995 include a nasty one-handed windmill and a one bounce, double-pump, backwards bonk! His "Baby Jordan" nickname paid off when he received a pair of Player Exclusive Air Jordan X (10) with his number, "32", stitched into the upper.