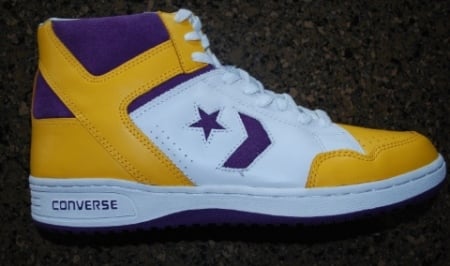 The generous crowd over at Converse presented me with a pair of Weapon '86 Mids a couple of weeks ago. I scooped an original white/purple eam pair several months ago on the down low, and couldn't wait to draw comparisons. To purchase the Weapon '86, visit Cons' digital store! Via Bounce.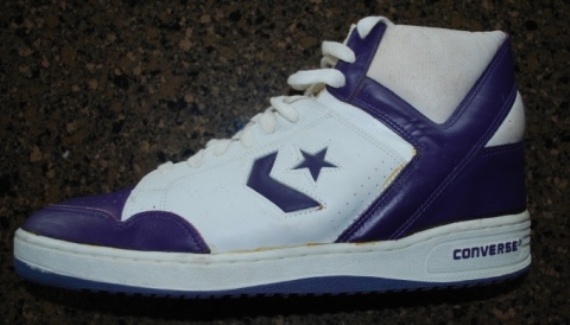 Similarities:
-Both the original and '86 reproduction offer the Chevron/Star emblem and "CONVERSE" in all-capitals on the midsole.

-Ankle support is provided via a "Y-Bar" support piece that's effectively double-stitched into the upper.

– Two rows of ventilation holes ride semi-vertically inbetween the "Y-Bar" and Chevron emblem and around the toebox that facilitate heat exchange and forestall sweat-drenched socks.

-Stitching reinforcements and lacing height are alike.

-The outsole tread patterns are identical.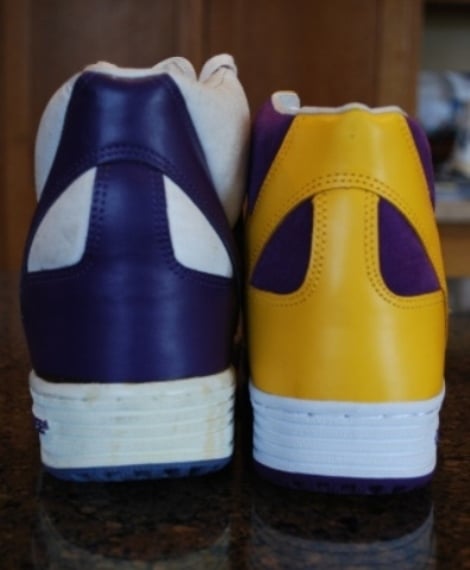 Differences:
-The original is furnished with a higher grade of leather.

-The '86 features suede purple accents around the ankle collar, the original is all leather, all the time.

-The midsole on the '86 replica has been visibly shaved down. It's more of a "Mid."

-Diet fads have emerged as a go-to Tour de Force in the world of edibles over the past two decades. Apparently, the '86 reissue joined the fray—its ankle collar has been significantly slimmed down, probably for fashion purposes.

Verdict:

Alright, so Converse's latest reproduction of the Weapon might not fit be exacting in its materials and silhouette. But unless you're a scrupulous purist, searching the backwaters of the Internet and the aged stockrooms of long-forgotten Mom & Pop shops, the Weapon '86 does just fine. The suede accents 'round the "Y-Bar" are funky in a nostalgic manner, and the slender profile matches up better off the asphalt than its bulky progenitor.