February 6th marks the 30th Anniversary of Michael Jordan's 1988 Free Throw Line Dunk along with the release of the Air Jordan 3 'White Cement'.
Jordan Brand has celebrated the day by releasing various stories and now we have a Q&A with Tinker Hatfield talking about the Air Jordan 3.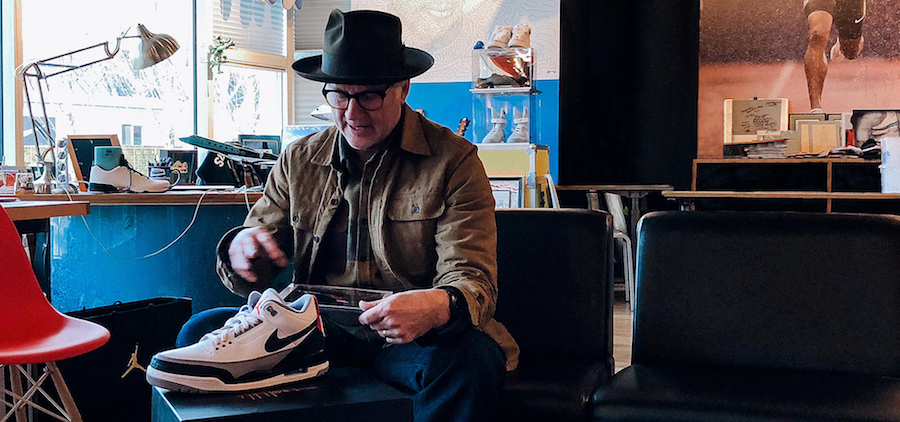 In the lead up to the launch of Air Jordan 3 season for All-Star, collectors and designers from the Jordan community clarify some of their most urgent questions with the famed designer.
The Air Jordan 3 was the first time you and Michael worked together. What was his mood like when you met him?
"I knew Michael Jordan wasn't very happy with the Air Jordan 2. Afterall, he broke his foot in it. But that first meeting with him was really insightful. I realized a lot about Michael – and that he had a really good sense of style.
I recall Howard White and I jumped on a plane to Chicago and went to Michael's condo. The building was shaking; it sounded like a fight going on. Howard pushed the doorbell, and we hear this voice from far away say 'Come on in, the door's open.'
We go in. Michael was in the lower level of the condo, and the ceilings were maybe seven-and-a-half foot, eight feet high. He was playing table tennis against one of his teammates. He could barely stand up down there. His head looked like it was hitting the ceiling. They were playing viciously. It was this competitive to-the-max game of table tennis and they were just going after every shot and running off the end of the table and crashing into the wall.
That was a great way to be introduced to Michael Jordan and it also helped me formulate the notion that I did not want to get in competition with these guys."
"After that, we went down to an appointment he had at a suit shop. It was amazing to watch him with these suit makers. He was picking out material and he literally said 'I don't like that lapel. What can we do that's different?' He was very involved in the process.
It was good for me to see both of these things. I don't think anybody in the business had quite grasped that there were athletes who were capable of being true collaborators. Michael said some insightful stuff, like 'I've always wanted to have a pair of basketball shoes that were comfortable right out of the box… Fresh.' That had never been done before.
I didn't really understand the pressures at the time. I just knew that we needed to make a big change."
In some of Tinker's earliest sketches there was a swoosh on the AJ 3. What happened?
"Even though I didn't know him that well, I thought it would be really great to talk to MJ about having his own brand. But I was conflicted. I thought the swoosh looked good on the shoe. It was designed to have a swoosh – that's why it works; there's a good place for it.
On the other hand, I had this Jumpman logo and knew it would be right for the shoe. I spruced it up myself. Then we started printing it out and trying it in embroidery. All of this happened in just a few weeks."
Who presented the Jumpman version to Michael? Was that you?
"Yes. We had some models made up and I put it on some apparel to go along with it. Michael was not in a great mood when we arrived. He said 'Show me what you got.' I had the shoe there under a black cloth, like a shroud. You couldn't really see very well what the design was like but he had already seen some of the stuff in the two previous meetings.
When I picked the AJ3 up Michael grabbed it from me and started looking at it. Within a few minutes he was smiling and asking all kinds of questions. Within 20 minutes, the meeting was pretty much over.
At the very last moment, I chose to leave the swoosh off and go with the Jumpman. It was an argument with some people in marketing at the time so I threw them a bone and put Nike on the back."
Did you ever have samples of the model with the swoosh?
"I'm sure there was a rough prototype. We were working within just a few weeks. I had to make a choice. The sample I had was a black cement, a beautiful second round sample."
Did anyone know you were going to take the swoosh off before that meeting?
"No-one knew as I had made the call last minute."
How did you arrive at the tumbled leather and elephant skin?
"In the second meeting, I had a whole stack of different, unique kind of leathers that I had researched and found. That's when we found elephant skin and the tumbled leather, which we called floater at the time. I showed them to him and he thought they were cool.
People told me we couldn't use the tumbled leather for a footwear because no one ever had. I said well, we're going to give it a go. We want the shoe to be soft and kind of luxurious right out of the box. When MJ first saw the shoe I knew we made the right call."
Why wasn't a high top version made?
"There was never any conversation around a high-top. MJ didn't want the weight. He wanted just enough support, more than a low-top.
I had just worked on this mid-cut Air Trainer and thought there was something worth exploring further for the MJ3. So we landed on a 5/8 collar height. When I first presented it to MJ, he said 'That's so radical but perfect. Everybody is going this way and that way, but we're going to do this.'"
Traditionally variations of performance shoes were white. Why did you go with a black sneaker?
"We didn't want to be traditional and I didn't want the shoe to be like any other one. I felt that Michael Jordan was the kind of entity that could validate a newer, fresher, little bit more 'out there' item."
Air Jordan 3 NRG Free Throw Line
White/Fire Red-Cement Grey Black
February 14, 2018
923096-101
$200

Air Jordan 3 OG Black Cement
Black/Cement Grey/White-Fire Red
February 17, 2018
854262-001
$200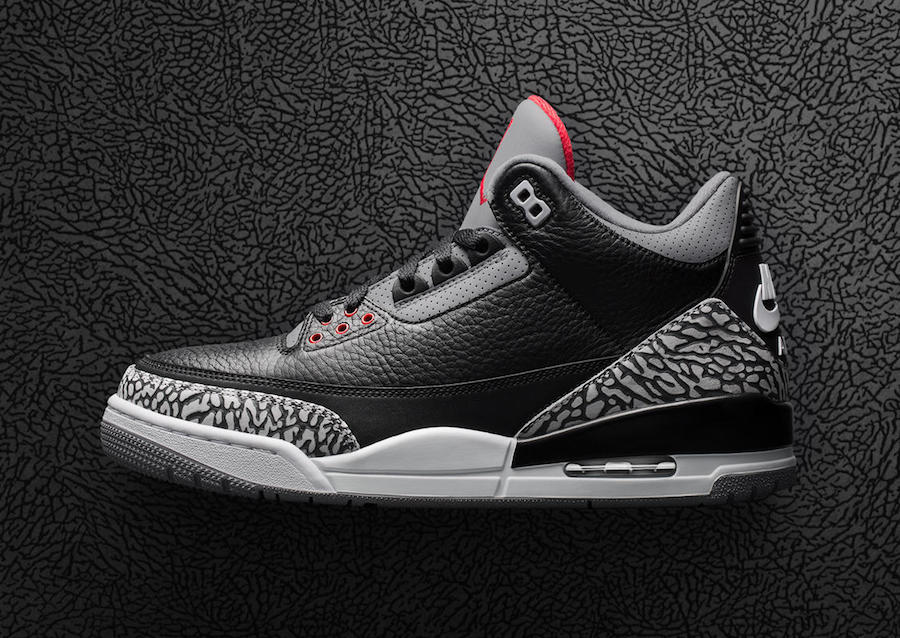 Air Jordan 3 Flyknit
Black/Anthracite-Black
March 18, 2018
AQ1005-001
$220

Air Jordan 3 Tinker
White/Fire Red/Cement Grey-Black
March 24, 2018
AQ3835-160
$200