Supra Suprano Hi "Black Foil" Releases!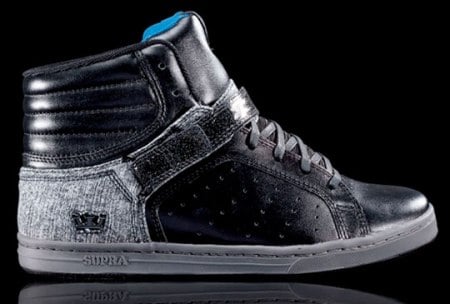 Backed by brazen, non-conformist celebrity endorsers, casual brand Supra is ready to blow 'thangs' (To clarify, 'thangs' is synonymous with brands that release substandard, low-quality product.) in '09! The company recently previewed the Suprano Hi "Black Foil", a sleek high top that's distinguished by a paper-thin midsole, reinforced ankle collar, and ornamental midfoot strap. The version is colored up in an enticing black foil/silver color scheme that should coordinate effectively with releases from across the heterogeneous streetwear industry. The Supra Suprano Hi "Black Foil is available now at Supra's webstore.
Brian Betschart
Founder and Editor of SF, Brian is considered an expert when it comes to sneakers. Collecting since he was in elementary school, his collection has grown to over 500 pairs and counting. Brian has published articles since 2004, and in 2006, he decided to create Sneaker Files.