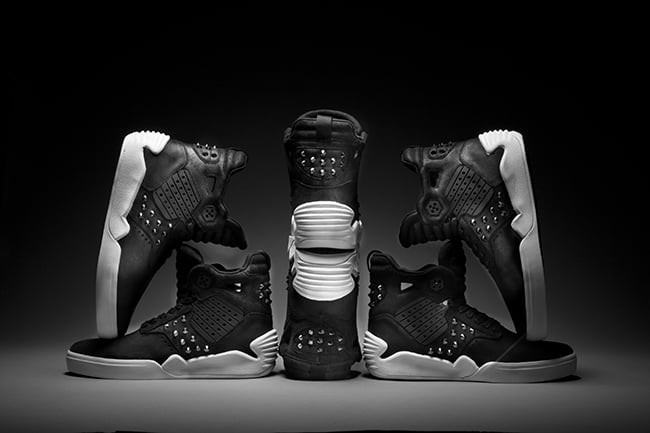 Supra Footwear has partnered with longtime friend and world-renowned DJ, Steve Aoki, to create the limited edition Steve Aoki Skytop IV.
"Me and Steve go way back," said Chad Muska, SUPRA pro and originator of the Skytop series. "We've collaborated on many projects over the years. We used to DJ some clubs together in LA and he went on to beone of the biggest names in electronic music, selling out arenas right and left!"
"Supra started as an underground company with an authentic voice of just a few skaters but enough for it to cause a worldwide storm," Aoki added. "It reminds me of the roots of Dim Mak and what we created in the last 20 years—a global community of artists supporting underground music pushing this culture forward."
For this collaboration, Aoki customized Muska's Skytop IV in a rugged construction of heavily oiled black suede. The design features an all black upper outfitted with gunmetal studs, flat waxed laces and black TPU insets. A padded microfiber interior paired with signature Aoki PU insoles ensure comfort while a white SUPRAFOAM midsole and rubber outsole supply ample traction and support. Neon Future hang tags featuring Aoki's visage adorn the shoe's distinctive hexagonal eyelets.
"It is an honor to be able to continue working together with Aoki after all these years," Muska said of the partnership. "His lust for life, work ethic, love for skateboarding, and ability to inspire people all across the world makes Steve a perfect match for Supra and the Skytop IV ."
The Aoki Skytop IV will be available in very limited qualities starting November 19.