Sprite Slam Dunk Contest Trendsetters – Julius Erving (#1)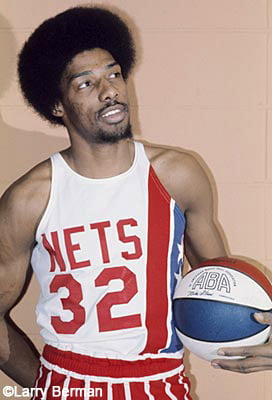 Julius Winfield Erving II was born on February 22, 1950 in Roosevelt, New York. Julius received his formative hoops education on New York City streets, competing under the scorching sun in rugged asphalt competitions to improve his game and augment his hops. The 6'7" 210 lbs forward's precise work ethic earned him the nickname "Doctor" and a scholarship to Massachusetts, where he averaged 26.3 points and 20.2 rebounds over the course of short-lived yet illustrious NCAA career. After he jettisoned the college ranks, Erving got involved with the Virginia Squires, an ABA franchise. He then signed with the Atlanta Hawks, logging three games with the mystical "Pistol" Pete Maravich; a legal injunction forced him back into his contract with the Squires, but it wasn't for naught. Erving flourished in relative obscurity out east, averaging a career best 31.9 points per game in his rookie campaign.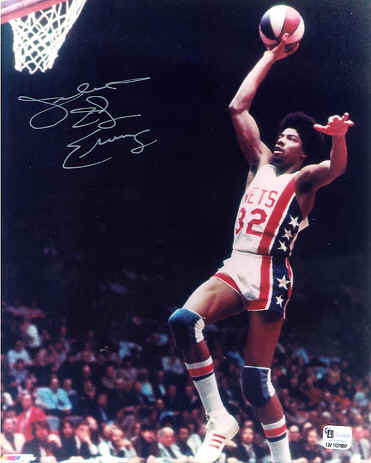 With seven momentous strides, one giant leap, and a dumfounding bong, Julius provoked hoops fans the world over with the first ever "free throw line" dunk in the first ever Slam Dunk Contest during the 1976 ABA All-Star Game. Basketball Digest adds, "It was, indeed, the dunk that shook the basketball world. Within months, the ABA would play its final game, and the lights would forever be extinguished in the maverick league. Although the red-white-and-blue gave way to brown on the court, the ABA had made a major impact, thanks in no small part to the Doctor." Of course, Erving's high-flying ways followed him to the NBA, where he piloted a few more amazing rimrockers in front of more established national audiences. At the ripe age of thirty-four, Mr. Erving attacked the 1984 NBA Dunk Contest with the propensity of a hyperathletic twenty year-old. The smooth operator exhibited his free-throw line wonder yet again, but also hit home with a behind-the-back dribble double pump reverse jam, and an under-the-rim "Claw" dunk.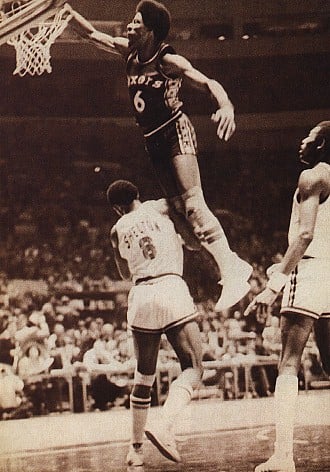 When Erving wasn't revolutionizing the hoops world with his acrobatic theatrics, he was signing establishing pioneering signature shoe deals. More specifically, the Doctor signed as $25,000 endorsement deal with Converse in the mid-'70s and sported the commendatory Pro Leather '76 on the court for several years.
Brian Betschart
Founder and Editor of SF, Brian is considered an expert when it comes to sneakers. Collecting since he was in elementary school, his collection has grown to over 500 pairs and counting. Brian has published articles since 2004, and in 2006, he decided to create Sneaker Files.