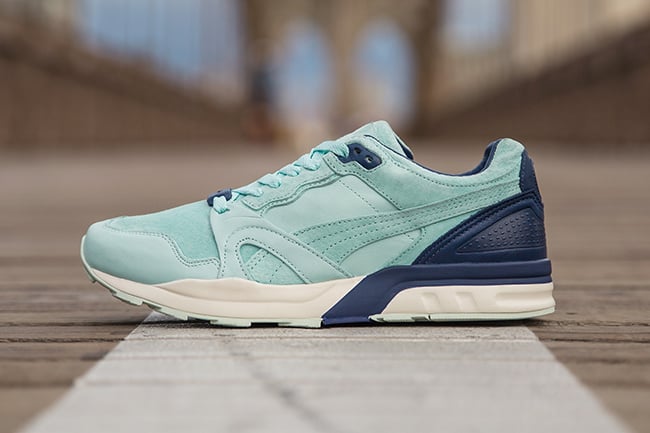 Founders of SneakersnStuff Erik and Peter use to travel to New York to purchase sneakers. This took place during the 1990s and their love for shoes lead them to open a store. Puma is now collaborated with the two on the Sneakersnstuff x Puma 'Adventurer' Pack inspired by their travels.
The Sneakersnstuff x PUMA XS850 'Peter' is inspired by the black duffel bags we used to carry home our sneakers in from New York. The bag is made in a thick ballistic nylon upper with premium suede details and a super soft leather lining. The quality of these sneakers really stands out. Tonal black details on the whole upper. To make them a little bit more personal Peter put his name on the sticker on the insole and his initials on the heel tabs.
The Sneakersnstuff x PUMA XT2+ 'Erik' is inspired by the old Swedish Passport. Premium navy leather upper details as well as the lining is from the cover of the passport. The soft leather turquoise combined with turquoise premium suede takes it inspiration from the passport pages that is also represented on the light yellow midsole. The numbers on the right shoe is the birthdate of Erik and the numbers on the back of the left shoe is Erik's old passport number. On the leather lace locks you see the star that they used to punch through the passport to make it void. Old passport stamps covers the innersoles and there are even a few more details to be found on the Sneakersnstuff x PUMA XT2+ "Erik" that makes them very personal.
More images of the Sneakersnstuff x Puma 'Adventurer' Pack can be seen below as well as a promotional video. Both pairs will release online and in-store on September 26th, 2015.