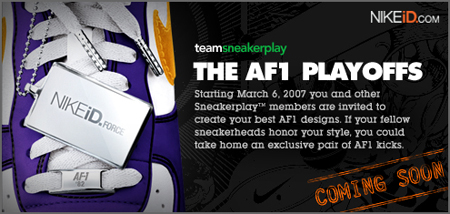 Sneakerplay has teamed up with NIKEiD to bring you 'The AF1 Playoffs'. This is their biggest contest to date. All the action will take place in Sneakerplay's exclusive teamLOCKER. This new NIKEiD feature allows you to create designs with fellow aficionados in an invite-only space. It's a great way to see what people really think of your style. Build your design here using team colors and save it to teamLOCKER to see how it stands up in the eyes of your peers.
Starting March 6th, Sneakerplay members will have the chance to design their own NIKE Air Force 1 Premium iD's. The winning designs chosen by the community will win an exclusive pair of the new AF1s – complete with rolled leather edges, a re-engineered interior, matching silver or gold accessories and a polished metal deubre declaring 'AF1 82' – in their winning design. (This shoe is not available to the public.) Remember, the contest is only 7 days away…let the countdown begin!
Sneakerfiles.com has 5 invites (at the moment) for readers that would like to join. To receive an invite, please join the Sneakerfiles.com Forum, and contribute 5 posts to the community, then message Brain916 asking for the invite.