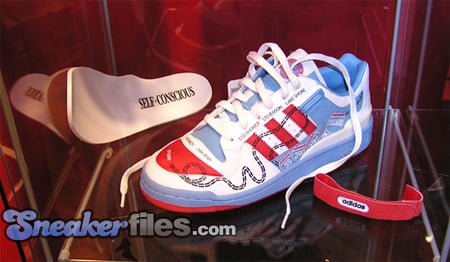 Self-Conscious in Chicago has collaborated with Adidas to form a Limited Edition Chicago inspired forum low limited to 75 pairs from a 500 Limited collaboration number that includes all 6 stores. 6 stores in total, 3 being "Old school" and 3 being "New School" have been chosen for the collaboration. The "Old school" stores have been chosen to collaborate on the Forum High in honor of the 25th anniversary Forum high shoe and released its collaboration on March 1st. The stores included Puffer Reds, Walters and Burnett's.
Self-Conscious is one of 3 "New School" stores that has been picked for the shoe collaboration that releases April 1st.
The concept of the shoe consists of the Chicago flag color way with each of the major expressways printed on the shoe. The airplane and tracks on the toe box and around the shoe signifies a plane flying from O'Hare over each expressway.
The shoe will run in Kid's Sizes 3.5-7 and Men's 8-14
So make sure you add another piece to your Chicago collaboration collection.
Release Date: April 1st
Retail 130$
Also, to the North side sneakerheads, don't forget to stop by Encore brought to you by Self-Conscious. Encore is the brother store of Self-Conscious offering premier releases including Lifestyle and Quick strikes. So if you cannot make the trip to Self-Conscious, Encore is the store to go to if you are in the North side. Since I last posted the Encore grand opening article the variety in clothing and sneakers has increasingly changed to a more diverse availability in selection, styles and sizes.
Oscar Castillo AKA Wreckinkickz
Myspace.com/wreckinkickz
Encore
3941 N. Sheridan Road
Chicago, IL 60613
773-477-4007