Model: Reebok – Reebok Questions
Purpose: Basketball
Original Release: 1996
Updates: Reebok News

Allen Iverson entered the NBA in 1996 and was in one of the best draft classes ever seen. Making his NBA debut with the Philadelphia 76'ers the young Allen Iverson wore his Reebok Questions which were released in September 1996. To go along with the uniform three color-ways were originally made, White/Blue/Ice, White/Red/Ice and Black/Gold.
Reebok Question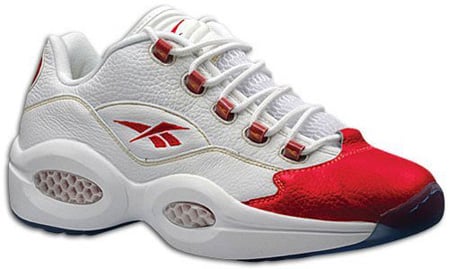 Iverson also wore a Red and Blue toe Reebok Questions which also featured suede. A White/Ice Blue pair was also made for Iverson which was later retro'ed in 1998 and sold out instantly. In the Summer of 1998 the low top versions were released in a wide variety of colors.