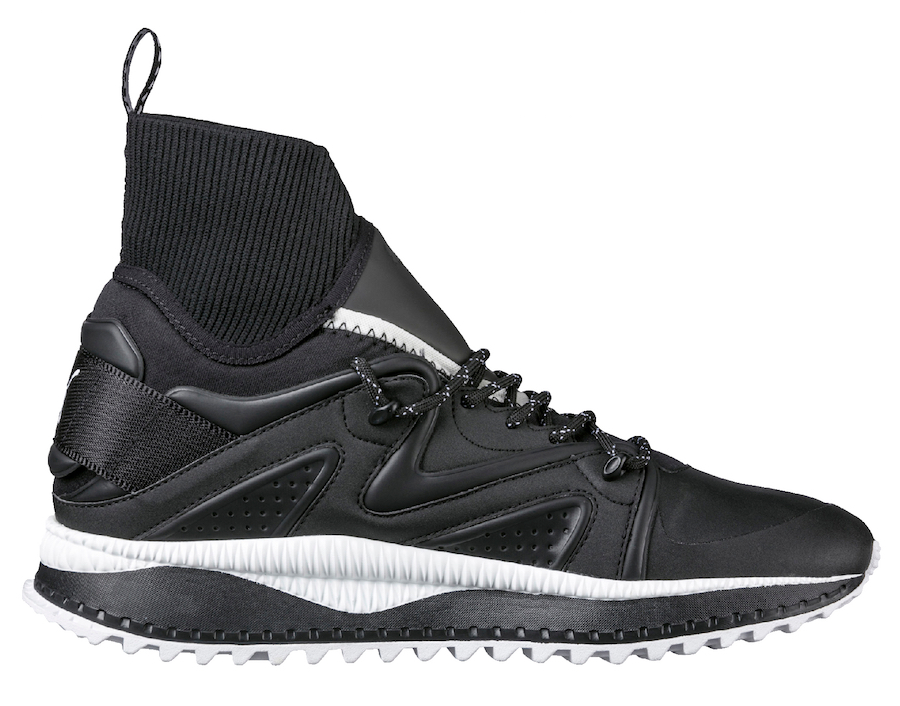 The TSUGI is back with a new silhouette just in time for winter with the all-new Puma TSUGI Kori, engineered to protect from the elements and styled to perfection with a winterized look and feel.
 
Featuring an aggressive rugged outsole, knitted sock collar, soft moulded overlays, and a woven heel gore, the TSUGI Kori offers plenty of support, grip and comfort. Constructed with water repellent materials and a neoprene construction, the sneaker keeps you dry and protected from the elements throughout the winter season.
 
The Puma TSUGI Kori is a winter offering of the progressive silhouette that first launched earlier this year. 'TSUGI' simply translates to 'NEXT' in Japanese, incarnating the fusion of modernity, technology and traditions, and bringing a new wave of aesthetic to progressive streetwear. Developed from the TSUGI Blaze, the TSUGI Kori takes draws inspiration from Archive, using elements of PUMA's iconic Blaze of Glory silhouette.
 
PUMA injected their most innovative running cushioning technology, the IGNITE FOAM, into the new TSUGI range. Strategically placed under the foot-bed, IGNITE offers ideal flexibility in the forefoot and cushioning in the heel for comfort. What gave runners the optimal rebound and comfort can now be enjoyed by sneaker heads on the streets looking for the latest high-tech streetwear solution.
Puma Tsugi Kori Release Date
The Puma Tsugi Kori is scheduled to release on September 15th, 2017. You will be able to purchase at select Puma retailers which includes Puma Lab Powered by Foot Locker, Kicks USA and Puma.com. Retail price is set at $110. Continue to scroll below to check out more images which will give you a closer look.
PUMA Tsugi Kori
September 15, 2017
$110
Update: Tomorrow the Puma Tsugi Kori will release for the winter season.