Pigalle has yet another collaboration with NikeLab, but this time around they connect with LeBron James. Here is a first look at the Pigalle x NikeLab LeBron 12 Elite.
LeBron James and Nike hosted a basketball clinic on Sunday in Shanghai for kids. The goal was to instill in the kids athletic fundamentals and inspire creativity. LeBron and company was joined by Stéphane Ashpool, founder of Parisian label Pigalle who also had players from Ashpool's own program to take part alongside Nike RISE locals. This marks the second time LeBron James and Pigalle have met for a good cause. The first was back in 2009 when the two met in Paris.
The two introduced the Pigalle x NikeLab LeBron 12 Elite at the Shanghai clinic. While the Elite is geared for on court play, Ashpool gets creative and adds different features for off-court wear. Featuring a muted white along with silver accents which contrast with other LeBron 12s that have released, typically using brighter shades. Speckled print is used through the uppers that connects to basketball shot clocks and the passing of time. Anodized chrome is accented through the sides. For a premium feel, they also come with a leather tongue, extra foam in the collar and a branded lace lock. The LeBron 12 Elite used also references back to the Pigalle x NikeLab collaboration that released in June.
Pigalle x NikeLab LeBron 12 Elite Release Date
The LeBron 12 Elite in collaboration with Pigalle now has a release date. They will first release at NikeLab X158 in Shanghai on August 18th. A second release will be on August 19th at NikeLab PS7 in Hong Kong. The third and final release will be on September 3rd, 2015 at select NikeLab accounts across the world including Nike.com/NikeLab.
Pigalle x NikeLab LeBron 12 Elite
Release Date: September 3, 2015
Update: Already released at NikeLab in Hong Kong and Shanghai, a third release for the Pigalle x Nike LeBron 12 Elite will take place on September 3rd, 2015 which is tomorrow. For now we have obtained official images of the shoes which gives us a detailed look.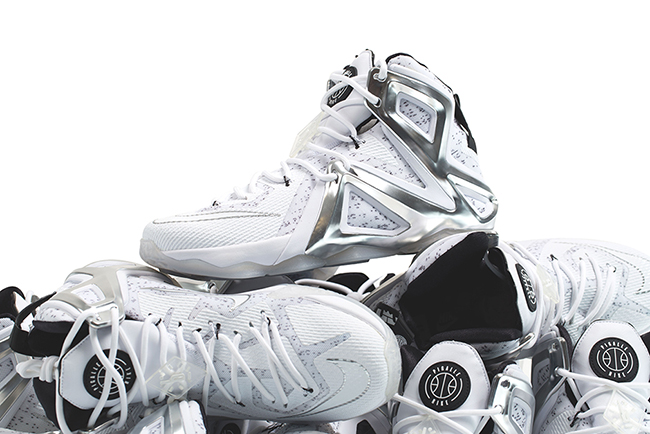 Update: Yesterday we received official images of the Pigalle x Nike LeBron 12 Elite and now thanks to Invincible we have more images.