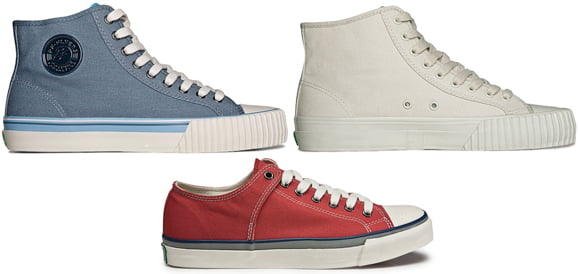 PF Flyers re-introduces four classic styles featuring Red, White and Blue colorways just in time for the Fourth of July holiday. The Sumfun Lo, Bob Cousy and both the Center Hi and Lo all emerge in patriotic colors for summer.
The Sumfun Lo is the latest reissue from PF's 70-year old archive. Built on an authentic Posture Foundation insole, the Sumfun has a striking espadrille-styled upper and features refined foxing details.
An original PF Flyers style from 1956, the Bob Cousy was developed in honor of basketball's first true superstar. Cousy wore PF Flyers during his landmark career. The Bob Cousy All-American collection has as much one-of-a-kind "classic court" style as the man himself.
The Center Hi and Lo sneaker are a versatile, vulcanized mid-century basketball classic. They feature the signature vertically ribbed toe guard, diamond-patterned outsole, and posture foundation insole.
All four styles and colors are available now at PF Flyers.