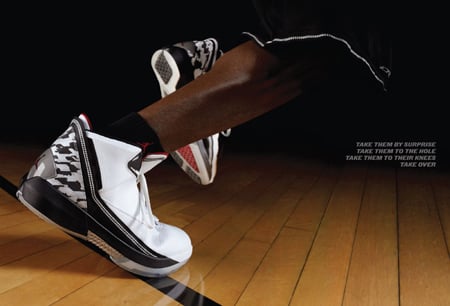 Not too long after our first Air Jordan XX2 sneak peak commercial, the official commercial has released. I have found only one website with the commercial hosted on it. Check it out, leave a comment and let us know what you think.
Click HERE to watch the Video.

Air Jordan XX2 Prepares to Take Over All-Star Weekend With Innovative Campaign
BEAVERTON, OR (February 7, 2007) – Jordan Brand, a division of Nike, Inc., is kicking off its 22nd anniversary with the release of the highly anticipated Air Jordan XX2. Officially available in retail stores on February 17, 2007, the Air Jordan XX2 is the most technologically advanced basketball shoe in the line, underscoring Jordan Brand's innovation platform and performance capabilities.
To celebrate the release of the latest Air Jordans, Jordan Brand has created an integrated marketing campaign incorporating a motivational advertising program with a major presence during All-Star 2007 in Las Vegas. The marketing campaign kicks off immediately with billboard, print and television advertising and includes a string of exciting events for the community, influencers, celebrities and athletes in town for the All-Star festivities.
The Air Jordan XX2 represents twenty-two years of sophisticated style meshed nicely with next-generation, cutting edge engineering. The latest edition to the popular luxury athletic footwear line is inspired by the F-22 Raptor, the world's most advanced stealth fighter jet. And like the F-22 Raptor, it boasts a sleek design and incorporates ground-breaking performance and technology to make it the most superior basketball shoe available. The Air Jordan XX2 pioneering performance capabilities offers fans and players the ultimate tools needed to take over the competition.
Designed and created by D'Wayne Edwards, Design Director of the Jordan Brand, the shoe features improved I.P.S. (Independent Podular Suspension) which now includes Double Stack Zoom AIR, and a titanium reinforced shank plate for additional support creating the ultimate luxury athletic shoe.
"When we set out to create the Air Jordan XX2 we researched at length to see what current designs best represented Michael Jordan's legacy," said Edwards. "We decided on the F-22 Raptor because it best embodies his abilities on the court with its superior stealth capabilities, sleekness and powerful performance."
The multimedia campaign from longtime Jordan Brand ad agency, Wieden+Kennedy New York, kicks off February 7 with a sixty second TV spot airing exclusively on ESPN during Rivalry Week – when University of North Carolina visits archrival Duke. Shot by acclaimed film and music video director, Mark Romanek (One Hour Photo, Jay-Z's '99 Problems'), the spot plays off Michael Jordan's infamy for taking over a game while on another team's turf, capturing both the inspiration and the upset behind the classic home-game let down. The spot encourages young athletes everywhere to step into the Air Jordan XX2's and step up to take over the game, forever changing its outcome. The campaign also includes heavy print, cinema, outdoor and broadcast initiatives.
"The Air Jordan XX2's were created to give aspiring athletes a tool to lead them toward a stellar performance on the court," remarks Todd Waterbury, Co-Executive Creative Director at Wieden+Kennedy New York. "In that spirit, we chose to showcase one of the greatest feats a player can pull off – the moment when they see an opportunity, the instinct kicks in, and they make a move that leads to the ultimate game takeover."
Ads will air nationally on major networks including ABC, MTV, BET, Comedy Central, and TNT, running simultaneously in cinemas throughout nine major markets. Outdoor will dominate Las Vegas just prior to, and throughout, All Star Weekend, lining every bus shelter up and down the strip with the Air Jordan XX2 campaign image. Print is also set to grace the pages of Sports Illustrated, ESPN the Magazine, Vibe, Complex, Slam and more.
A fully integrated digital campaign on Jumpman23.com, kicked off in late January with a sneak peek of the upcoming video television spot. On February 7, the complete consumer experience will be unveiled on Jumpman23.com, in conjunction with the national television advertising campaign. The experience will include a full feature area with exclusive downloads and video content, and extensive performance and technology information about the Air Jordan XX2 Combining cutting edge video and voice over technology the consumers will be ushered deep into the mind of the athlete who is primed to take over. These videos will appear in several spaces online, including exclusive podcasts, regular JordanTV updates and social media sites as well as being available via mobile and at select retailers.
With this year's All-Star festivities taking place in Las Vegas, Jordan Brand is planning a series of events to celebrate the launch of Air Jordan XX2. Consumers will be treated to The Jordan Brand Experience, an innovative, three-day public event that blurs the lines between reality and the video screen and leverages the partnership with Electronic Arts (EA) Sports, publishers of NBA Street Homecourt 4. The event runs from Friday, February 16 through Sunday, February 18. Consumers can take instructions from the basketball athletes on recreated home courts from Jordan Brand Team athletes Rip Hamilton (Detroit Pistons) and Carmelo Anthony (Denver Nuggets) as well as the former trainer of Michael Jordan, Tim Grover. In addition to some of today's brightest stars and celebrities attending the three-day consumer event fans will be treated to several local events, a sneaker collection exhibit, clinics and live performances.
On February 16, 2007, celebrities and athletes will be treated to an official Air Jordan XX2 launch party, Area XX2. Area XX2 will be the premier event of All-Star 2007 as Jordan Brand creates a celebration that takes the design inspiration of the F-22 Raptor, the technology and comfort found in the Air Jordan XX2 and transports partygoers into a Jordan Brand nirvana of fun and excitement.
"For twenty-two years, the Jordan Brand has set the standard for athletic luxury footwear as Michael Jordan has set the standard for athletic achievement," explains Clifford Torng, Marketing Director for Jordan Brand. "The campaign for the Air Jordan XX2 pays tribute to the success of both the individual and the brand that carries his name, inviting consumers to dream, and hopefully inspiring them to perform."