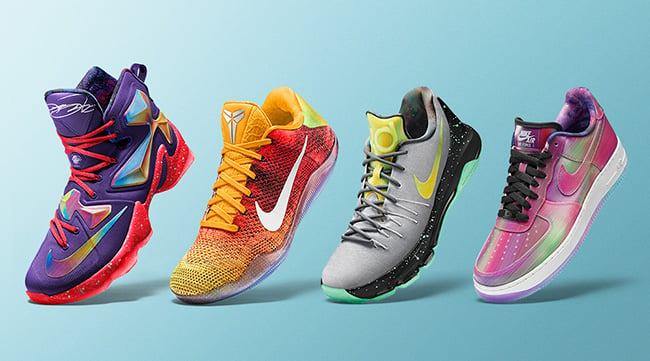 NikeID is giving everyone the chance to customize their own All Star sneaker which includes the Nike LeBron 13, Nike Kobe 11, Nike KD 8 and a few different Nike Air Force 1s.
While you can add your own text to the models, the brand is also offering color shifting material options. As well, it appears Nike is giving people the chance to reflect on past All Star releases. The KD 8 looks similar to the 'Galaxy' KD 4 while the LeBron 13 has an 'Area 72' feel.
The NikeID All Star 2016 Sneaker collection will be available at the NikeID Loft in Toronto at 548 Richmond Street West: Tuesday, February 9, 12pm-9pm; Wednesday, February 10, 12pm-5pm; Thursday, February 11, 12pm-6pm; Friday, February 12, 2pm -6pm; Saturday, February 13, 12pm-6pm; and Sunday, February 14, 11am-6pm.
As for an online release, Nike has yet to give details, however make sure to check back with us for retail price and the launch day.