Model: Nike Running – Nike Waffle Trainer
Purpose: Running
Original Release: 1974
Updates: Nike Running News

The Nike Waffle Trainer was an early running shoe that first released in 1974. It was a very simple shoe with a waffle iron outsole for traction. It was actually developed as an experiment with a waffle iron by Bill Bowerman.
Nike Waffle Trainer History
[ratings]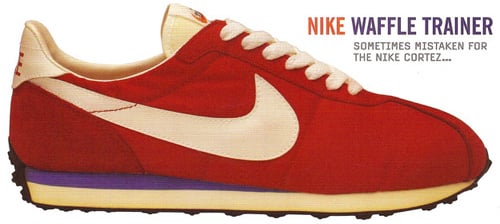 In 1975, a second version of the Nike Waffle Trainer was released with a flared outsole for enhanced stabilization. A UCLA color way was released in 1976, and was reissued in 2002. A Lady Waffle Trainer was released in 1977.