Model: Nike Running – Nike The Sting
Purpose: Running
Original Release: 1978
Updates: Nike Running News

The Nike The Sting was an early running shoe, first released in 1978. It was a low-top sneaker with a very low profile, giving the image of speed. The upper was made using thin, rust-colored suede with green nylon for the side panels. The Nike Swoosh appears on the side, as would be expected.
Nike The Sting History
[ratings]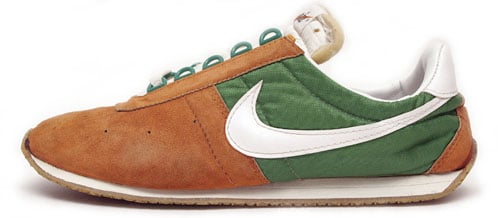 The Nike The Sting was one of the first running shoes to feature D-ring eyelets for the lacing system. Its suction-like outsole helped for maximum grip while running at high speeds. In 2003, the Nike The Sting was reissued in new color ways.