Model: Nike Running – Nike Air Zoom Spiridon
Purpose: Running
Original Release: 1997
Updates: Nike Running News

Named after Spiridon Louis, the winner of the first Olympic Marathon in the Summer of 1896, the Nike Air Zoom Spiridon represents a new emphasis on Nike's lightweight category. To obtain it's high comfort and lightweight, a technological innovation called "Caged Zoom" was used for the Air Zoom Spiridon.
Nike Air Zoom Spiridon History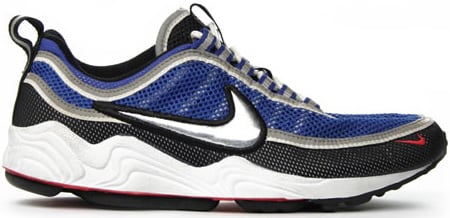 Caged Zoom is a Zoom Air bag inside of a plastic cage designed for protection and function. To improve it's stability, the thickness of the sides of the cage is varied which keeps the weight down. Additional cushioning is provided by the Zoom Air technology.

Like Spiridon Louis, the Nike Air Zoom Spiridon is a winner to many because of its high quality and comfort. The Air Zoom Spiridon is revered to be an ideal shoe for what it was exactly designed for, running. By using the name Spiridon, it creates the idea that anyone can go out and train to be an Olympic marathon runner in their Air Zoom Spiridons.