Model: Nike Running – Nike Air Tuned Max
Purpose: Running
Original Release: 1998
Updates: Nike Running News

The Nike Air Tuned Max was released in the Fall of 1998 and was the first trainer to incorporate the revolutionary Tuned Air cushioning system. The secret behind the Tuned Air Sole is it's specially designed tuned hemisphere, two balls strategically positioned facing opposite directions to ensure fine-tuned resistance, cushioning,stability, and support. The Air Tuned Max is the ultimate mix of the latest in sneaker innovation and city life design inspiration.
Nike Air Tuned Max History
[ratings]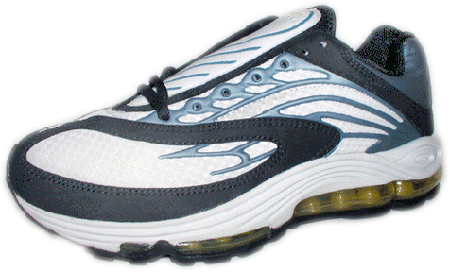 The Nike Air Tuned Max was very successful over seas in places like London and France, however it wasn't very successful in the United States.Nike even dropped the MSRP to try to boost its sales. Since it's release, over 100 different pairs have been sold, it's first being the"Hyper Blue" which was popular in the United States and in other countries. The Air Tuned Max is available at most major Nike retailers.