Model: Nike Running – Nike Air Safari
Purpose: Running
Original Release: 1987
Updates: Nike Running News

The Nike Air Safari was designed for running and track sports, though some refer to it as a trails shoe. First released in 1987, the Nike Air Safari was not popular at first, due maybe to its orange color and speckled gray panels. It was considered almost twenty years ahead of its time.
Nike Air Safari History
[ratings]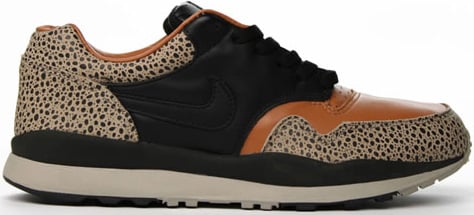 The leather upper of the Nike Air Safari helped to make it extra durable, and its lightweight design made the shoe perfect for running and training. It has appeared on the back of Biz Markie's "Biz Is Goin' Off" album. The Nike Air Safari has since been reissued with some success, and new color ways.