Model: Nike Running – Nike Air Flow
Purpose: Running
Original Release: 1989
Updates: Nike Running News

1989 was the year the Nike Air Flow was first released. It was a lightweight running shoe that was made with nylon, Lycra, and synthetic suede for a sock-like fit. The encapsulated Air Sole Unit in the heel provided much-needed cushioning for runners.
Nike Air Flow History
[ratings]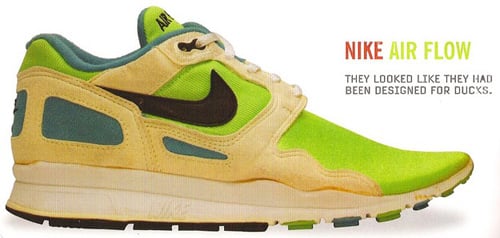 The Nike Air Flow was produced as part of the Nike Air International Fall '89 collection, and reflected that by its bright color schemes. The Nike Air Flow was ideal for summer time, and had a stylish look as well. The Nike Swoosh proudly brands the Nike Air Flow quietly on the side.