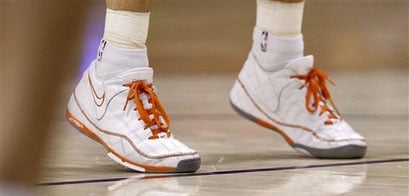 Nike and Steve Nash have pioneered a new performance basketball shoe composed of manufacturing waste, entitled Nike Trash Talk. Modeled after his current shoe, Nash's Zoom BB II Low has been created and designed to keep up with the environmental issues and meets Nike's Considered design standards.
The Zoom BB II features an upper created from leather and synthetic leather waste from the factory floor. The outsole uses environmentally-preferred rubber which reduces toxins. Nike seems to be adapting to the changing lifestyle and becoming more aware of the environmental problems happening and it isn't the first time Nike has used environmental friendly materials, the Air Jordan XX3 has been crafted to consider the environment.

Nike will be releasing a limited number of the Nike Trash Talk and will be available in three different colorways; two Phoenix Suns color-ways (home and away), as well as one color-way that will be worn by Nash at the All-Star game. The All-Star color-way will be sold at the House of Hoops by Foot Locker located in New York and New Orleans this week for the suggested retail price of $100. The two Phoenix Suns models will be available on April 22, 2008 at the House of Hoops. Via Yahoo/Nike Biz.