Nike SB Blazer High – 'Hypho' Custom by JBF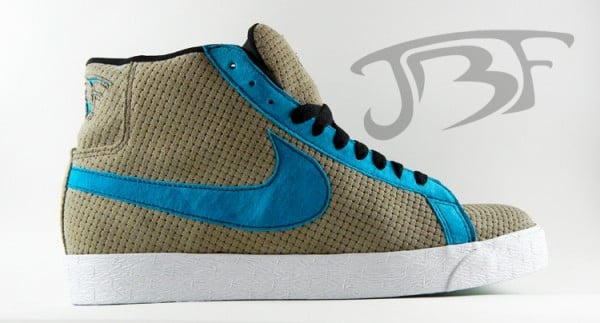 Sneaker customizer JBF has been keeping busy creating new custom kicks. His latests creation comes in the form of a Nike SB Blazer High.

Dubbed the 'Hypho', these are constructed of turquoise pig suede along with basket weaved suede giving the shoes a premium look and feel. Nike branding has been replaced with 'JBF' on the heel and tongue tabs in order to complete the custom look.

These customs are available to purchase, or you can hit up JBF for another pair of kicks just for you, by contacting him via email at [email protected]. JBF is also on Twitter, @JBFcustoms, aloowing you to stay current with his latest creations.

Brian Betschart
Founder and Editor of SF, Brian is considered an expert when it comes to sneakers. Collecting since he was in elementary school, his collection has grown to over 500 pairs and counting. Brian has published articles since 2004, and in 2006, he decided to create Sneaker Files.