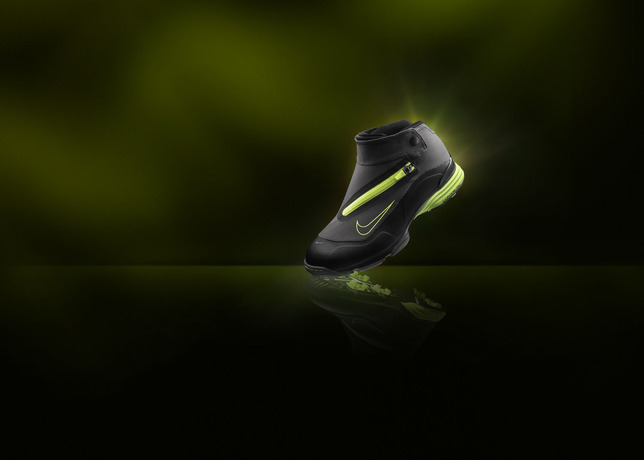 Nike Golf presents its latest footwear design, the Lunar Bandon.
Nature's elements have met their match with the newly designed Nike Lunar Bandon, the newest footwear from Nike Golf that exudes non-stop innovation.  Uniquely crafted to take on harsh weather, the Nike Lunar Bandon is flexible, lightweight and comfortable- keeping feet warm and dry for athletic competition in any condition.
The Nike Lunar Bandon takes the original groundbreaking Bandon to a new level of performance. Nike Golf's footwear team set out to create the ultimate mudder- a golf shoe that could conquer even the wettest playing conditions.
They recognized that no traditional low-profile golf shoe could be truly waterproof as water can enter over the collar. Nike Golf designers crafted a higher silhouette to work in concert with the rain pants, creating the ultimate waterproof protection.
Form followed function as the footwear team looked to create a shoe that worked with the outerwear system to maximize comfort, performance, and style. Lee Walker, Nike Golf's Footwear Product Director stated, "You have outerwear, all-weather gloves, and covers for your golf bag. We wanted to complement that with a shoe that works with the rest of your gear to protect while it performs."
A booty tongue construction catches any water that could breach the upper when putting on the shoes, keeping feet as dry as possible. Speed lacing with an easy-to-utilize toggle simplifies the fastening process and a notched-out heal maximizes comfort for walking and bending to read putts.
The newly designed Lunar Bandon combines an appealing aesthetic with performance technology. A bright, asymmetrical zipper across the top of the shoe provides a waterproof shield without adding pressure to the foot. This stylish waterproof upper boasts seam-sealed construction that is designed to help keep water out and feet dry.
Integrated Traction on the outsole is engineered to help eliminate clogging and increase ground contact. This level of traction keeps a lower profile, providing the athlete with more stability. Lunarlon cushioning in the heel helps provide lightweight comfort and increased ground-feel.
Nike Golf strives to meet the needs of the athlete, helping them adapt to any situation. Walker expressed, "In some climates, if you waited for fair weather days, you wouldn't have many options to get out and play. In the Lunar Bandon, golfers have a shoe that allows them to practice and play in any condition."
The Nike Lunar Bandon is set to drop on October 1 for $180.