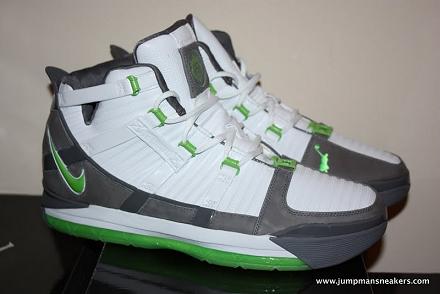 LeBron James's Dunkman line was one of those limited releases that you just had to have but could never obtain. They were so limited with a colorway so unbelievable that you couldn't help but drool.

The first GR was the Zoom LeBron Low ST, and they sold out as fast as a pair of Jordan XI's. Next was the Zoom Soldier in its Dunkman rendition. Lucky for us, we have had the chance to purchase Dunkman's for quite some time now, but what about the ones that were produced yet not released? eBay member poofyo101jumpmansneakers has a sample pair of Zoom LeBron III Dunkman for sale for anyone interested in adding these to your collection.

Hit the jump for more images and if Nike were to ever Retro a LeBron, would these be on your list?