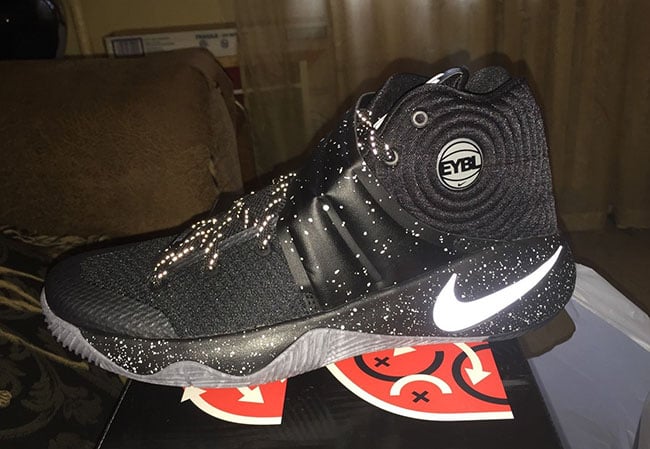 The Nike Kyrie 2 'EYBL' was created for the Nike Elite Youth Basketball League. Typically the shoes are exclusive to participants of the tournament, but time to time they become available to the public. In this case, the EYBL Kyrie 2 will release.
Using a simple color blocking of Black and White, the stand outs on this pair of Nike Kyrie 2 are the smaller details. First you will notice the EYBL with a basketball logo by the collar. Following is White speckled print through the midsole and across the mid-foot strap. The last touch is the outsole and sole that has a mixture of White and Grey that has a marble look to them.
Check out another image of the EYBL Nike Kyrie 2 below. So far, they are set to release at Foot Locker House of Hoops located on Fulton St. Currently there are no additional details of a wider release taking place, but we will make sure to let you know once more information is unveiled.
Update: The EYBL Nike Kyrie 2 is rumored to be limited to 40 pairs, however it is possible a wider release could take place. For now, we bring you a closer look which even shows the box tag which is different from the traditional Kyrie 2 box. If you want to pick them up now, pairs are available on eBay.