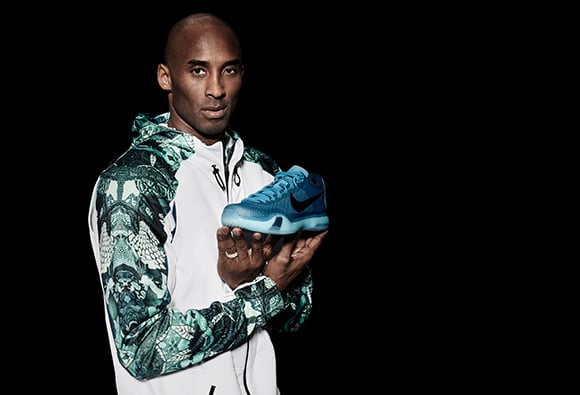 Nike has teased us all week of the upcoming grand unveiling of the Kobe 10, and finally earlier today they dropped the official press release. A lot has to be said about the Kobe 10, which should be noted the brand states the traction could be the most effective in 43 years of Nike basketball shoes.
The uppers which will use advance textiles for lightweight breathability and is said to be strong than mesh. All new open weave textile which is inspired by the pattern and strength of sharkskin. Moving into the shoes, a mesh bootie is intact to enhance breathability as well as comfort.
Some of the details are nubuck landing on the tongue while using nubuck and a snake scale pattern to bring out the Mamba. On the inside of the tongue is graphics that tell a storyline of each colorway.
Many of us wondered what the four red lines represented on the left shoe and it comes from Kobe Bryant's return from his Achilles tendon injury. To repair the tendon, doctors used 4 feet of stitching thread.
Each color way to release will tell a story about Kobe Bryant's drive and determination. The first pair to release is known as 5 AM Flight. Early in the morning Bryant did a 40 foot dive in August 2013 when he was recovering from ACL surgery. The predominate blue sneakers represent the water. Launching with the shoes will be a full line of clothing and apparel.
The 5 A.M. Flight Nike Kobe 10 will release on February 7th 2015 at Nike Store and select Nike retailers. According to Nike, there will be four more colorways they will be exposing over the next couple of weeks.
Nike Kobe 10 Technology
Hybrid Cushioning: The hybrid cushioning combines Lunarlon, Nike Free-inspired siping grooves and a zoom air unit in the heel.
Advanced Traction System: The outsoles features hundreds of "nodules" that grip the court, similar to the intricacy of the threads on performance race car tires, which grips and splay at high speeds.
Seamless Textile Upper: The new-open weave textile upper is inspired by the pattern and strength of shark skin.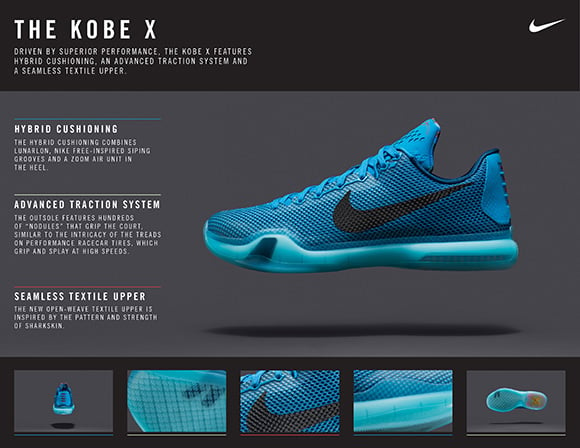 Nike Kobe 10 Facts
Designer: Eric Avar
Colors: So far, an all blue pair known as 5 A.M. Flight is announced by Nike, but click here to keep up with the Nike Kobe 10 news.
Release Date: 5 AM Flight will launch on February 7th 2015
Retail: $180 for the General Release models.
Quotes from Eric Avar, the Designer
"Innovation drives you to new places," said Bryant. "The KOBE X combines strong design from the past together into a modern look for the future."
"The Kobe signature line allows us to think bold with provocative concepts that spark conversation," said Avar, Nike Creative Director and VP of Innovation. "Kobe's tenth shoe is a super light, responsive and purposeful look at high performance, high design and high style. The work is exciting and the collective teamwork around the project is contagious."
Nike Kobe 10 Videos
Eric Avar going over the tech of the Kobe 10
Kobe Bryant doing the 40 foot high dive

Nike Kobe 10 5 AM Flight Details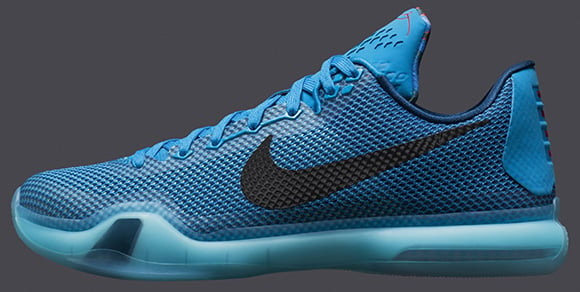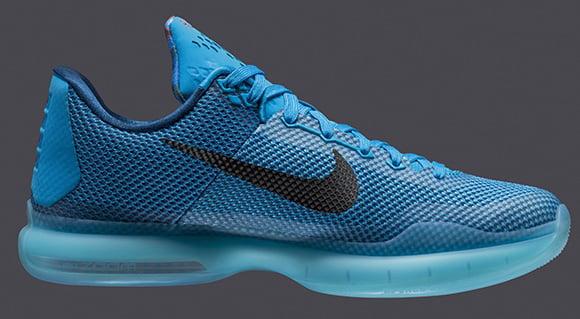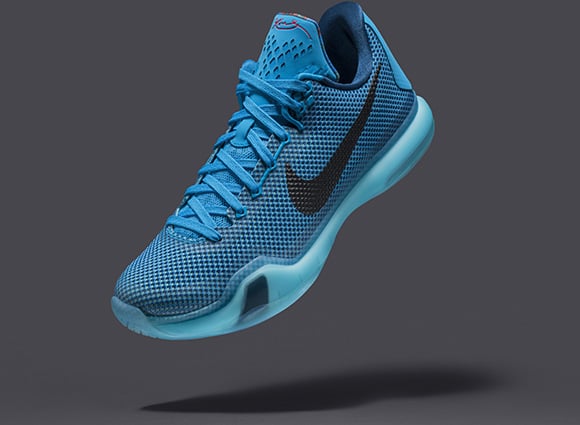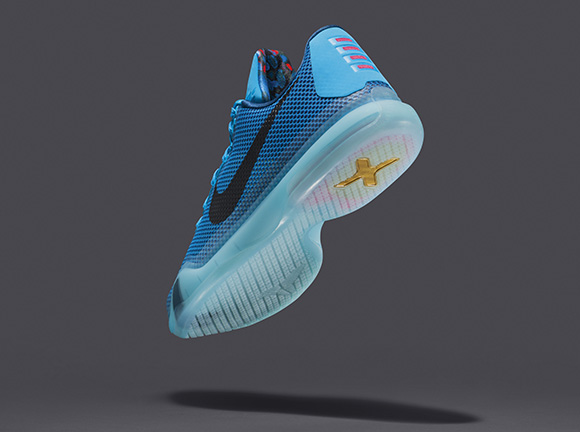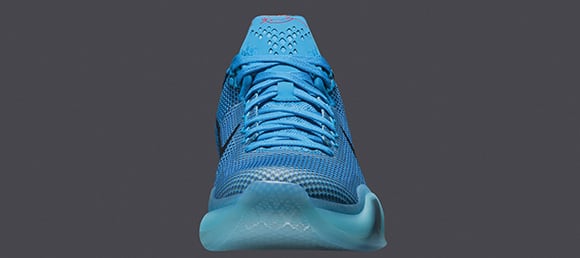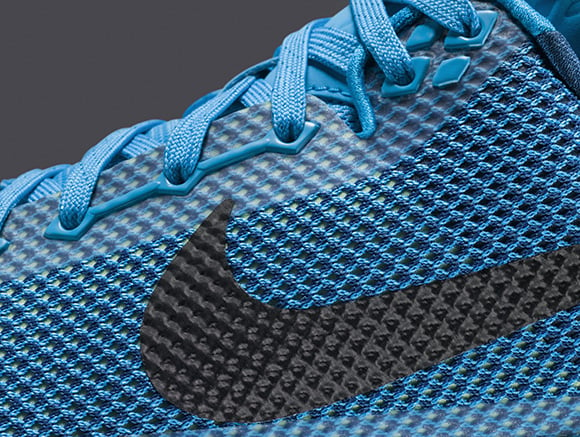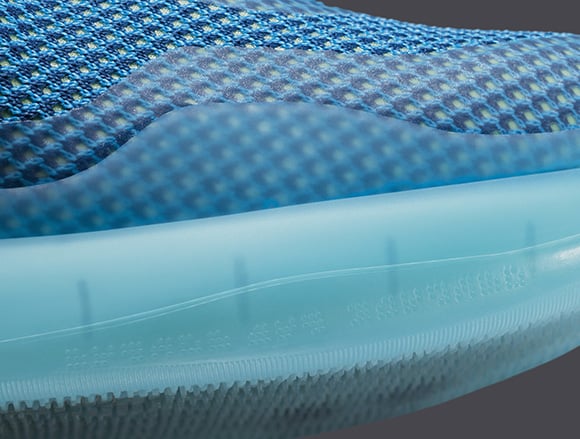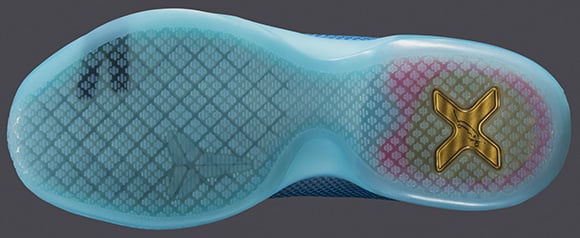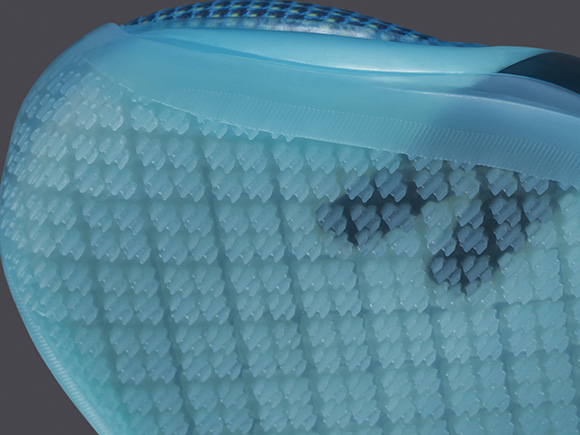 Nike Kobe 10 Sketches