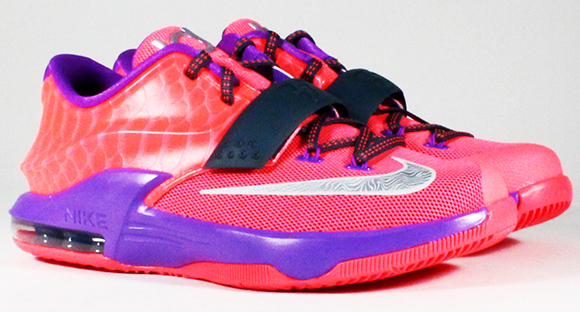 Nike has done a great job keeping their newest kids exclusive KD 7 under wraps. Usually we see shoes expose a month and even longer before the actual launch. The Hyper Punch KD 7 GS is releasing this week and the first image to show up was exposed over the weekend. It wasn't the best image but we knew what was to come. Today we bring some detailed images that really shows you what they are all about.
As you can see, Nike didn't shy away from hyper punch, as the uppers are predominately covered. If you look closely, the shoes have a reptilian finish, maybe a snake or even crocodile? Hyper grape comes crashing in on the midsole and liner while the brand adds small touches of magnet grey on the swoosh and KD logo on the tongue.
The Hyper Punch Nike KD 7 GS is available at retailers on Black Friday (November 28th). One of the stores you can scoop a pair up at is Villa. Retail is $115.