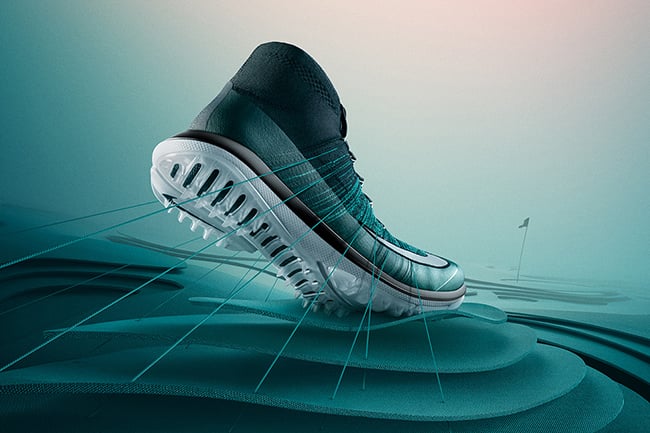 Nike Sportswear has just introduced the Nike Flyknit Elite Golf shoe which will feature an Articulated Integrated Traction.
To align with this asymmetrical process and ultimately facilitate better footwork, Nike designers created Articulated Integrated Traction. Developed via research and athlete testing, the all-new traction decouples the medial heel and lateral forefoot area to help propel the athlete through the swing.
"When our team of designers started creating what would become Articulated Integrated Traction we factored in foot performance through every aspect of the swing," explains Gentry Humphrey, VP Nike Golf Footwear. "We also considered the various surfaces and angles a golfer has to play through each and every round and worked hard to create traction that performs in every condition."
The articulated channels also allow for better balance while keeping the golfer lower to the ground. A unique TPU tread design offers continuous traction that replaces traditional spikes without sacrificing grip.
The Nike Flyknit Elite Golf shoe will be available on June 16th, 2016 in two different colorways of Pure Platinum/Cool Grey and Black/Clear Jade. Retail price will be $270.