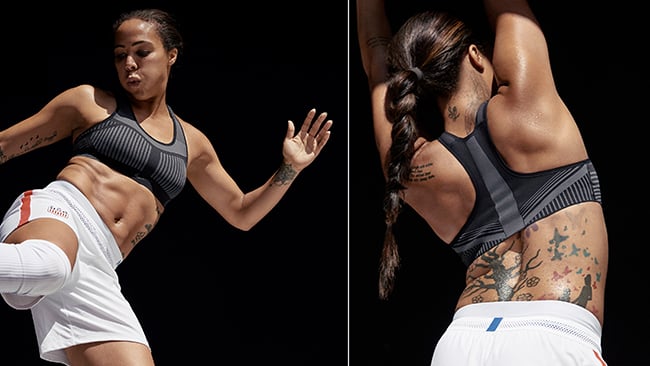 Nike first introduced Flyknit which debuted at the 2012 London games with the Nike Flyknit Racer. Today, the technology is used in Nike footwear across sport, from the Nike Zoom Fearless Flyknit women's training shoe to Kevin Durant's signature Nike KD 10.
Moving forward with the technology, Nike has now introduced the first Flyknit apparel which is the Nike FE/NOM Flyknit Bra.
"The goal of the Nike FE/NOM Flyknit Bra was maximum support and comfort that would allow women to feel and look amazing while doing anything they choose," explains Nicole Rendone, Senior Bra Innovation Designer. "We prioritized support, breathability and cooling in essential zones." 
The bra is constructed with an ultra-soft nylon-spandex yarn that form fits to your body, using two single-layer panels that are assembled for a seamless feel. This Flyknit process also enabled designers to combine encapsulation (which have separate cups for each breast) with compression (which holds the breasts close to the body), offering the best of shape, support and comfort without the addition of components like wires, pads, stabilizers and elastics.
The Nike FE/NOM Flyknit Bra is available starting today and will be sold exclusively on Nike+ for 48 hours. Following the bra will be available at Nike.com.