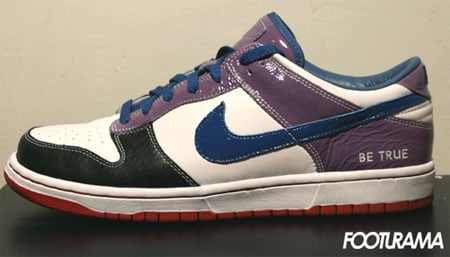 Nike extends their Be True slogan to their South East Asia (SEA) department which has created two special Nike Dunk Low ID's. White, Blue, Black and Violet combine to form the men's Dunk ID and features the words "Be True" inscribed at the heel.
The women's model is a little bit different, it features the words "True Love" at the heal and sports a White, Grey, Violet, and Pink color-way. However, it appears that each shoe features a mixture of premium materials along with different ID colors.
The men's version is limited to 30 pairs and 13 for the women's. Released throughout South East Asian countries, including Indonesia. Via Footurama.