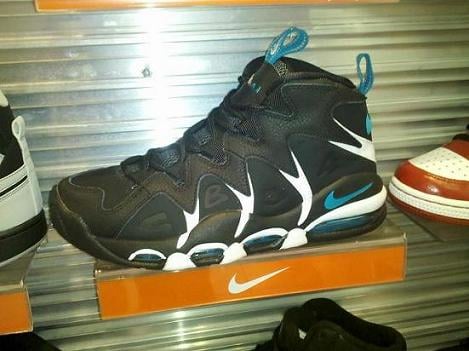 Earlier this week we brought you an update on the Nike Air Max CB34 'Glass Blue'.

While at my local sneaker shop(s) I spotted the newly re-designed colorway in person, and they looked great. Glass Blue is a very eye catching colorway and is perfectly offset by the black base. Quality on this Retro was also very nice. Materials are soft and supple, with craftsmanship being top notch. My only complaint is the Air Sole unit; Nike needs to bring back the OG Air Soles. What was once an outstanding form of cushion are now mediocre at best. If you are going to change the volume of the Air Sole, it should have been upgraded to the new 360 Air Max bags seen on the newer performance models especially since the retail price is comparable to that of the Air Max Hyperdunk 2010; which can now be found on sale for $129.99.

Overall, it's a great looking Retro model with a great color combination and can be found at your local retailers now.