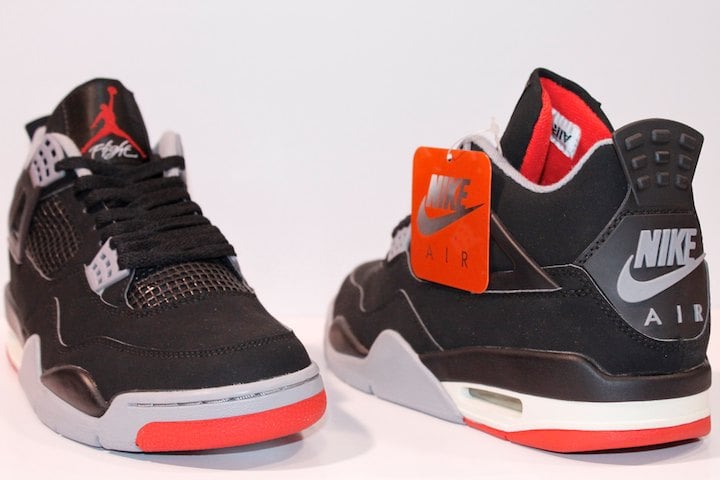 The Air Jordan 4 'Bred' is expected to release in 2017 which will use the original Nike Air branding. Many have waited for the Black and Red Jordan 4 to return and it looks like it's finally happening.
We already know that the 'White Cement' has released and possibly the 'Military Blue' Air Jordan 4 could launch in 2017, although signs and rumors are pointing to it not being a sure thing.
Nike Air Jordan 4 Bred 2017 Details
For those that don't know, the Air Jordan 4 'Bred' originally released in 1989 and then came back for a retro release in 1999 and both used the Nike Air branding. Other than that, we have seen two more releases, one in 2008 which was apart of Jordan Brand's 'Countdown' Pack that was paired with the Jordan 19 and another in 2012 which released by itself. Those two releases were issued with what became standard, the Jumpman logo on the heel and insole.
For 2017, it appears the brand will give what the fans have been asking for, the Nike Air Jordan 4 'Bred'. Dressed exactly like the original release while using black through the base, cement grey on the liner, cement grey on part of the midsole and fire red on the Jumpman landing on the tongue as well as the inside and touches on the outsole. All the while 'Nike Air' will sit beautifully on the heel and insole.
Nike Air Jordan 4 Bred 2017 Release Date
We can only speculate for now, but rumors and some sources are saying we will see the 2017 Nike Air Jordan 4 'Bred' in Fall/Winter 2017. You can expect a retail price of $220 which has become standard for any model using Nike Air branding on it. We will continue to update you with images and details on this release so make sure to check back with us frequently.
Are you a fan of Jordan Brand bringing back multiple pairs of the Air Jordan 4 with Nike Air? If so, do you think JB should drop all the OG pairs in 2017? Leave a comment and let us know what you think.
Update: 2017 has came and gone and no 'Bred' release. However we will see the 2019 'Bred' Air Jordan 4′ release in May.
Note: Top image used is the 1999 release but the bottom three are said to be the 2017 'Bred' Air Jordan 4 release.
Source: Flightclub.cn