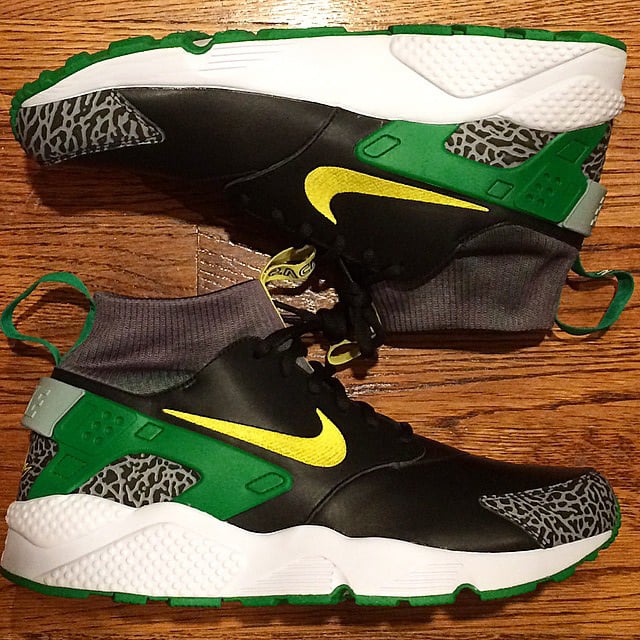 Yet another PE made for the Oregon Ducks that the majority of us won't be able to get our hands on. This time around we get a look at the Nike Air Huarache Oregon Ducks.
It's the perfect time for Nike to produce the Huarache for Ducks players as they are bringing out a ton of retros, plus are at the peak of being sought after. It's just unfortunate that most of us won't have the opportunity to purchase. Either way they feature the fighting duck logos on the heel with an elephant print backdrop. More elephant print is placed around the toe box. Hints of green apple and yellow are seen on the tongue, toe tab and branding.
You can see more images of the Nike Air Huarache 'Oregon Ducks' PE below and as of now there are no plans of them releasing.
Update: DJ Clark Kent got his hands on a pair of the Nike Air Huarache 'Duckrache', giving us an additional look. He also gave us this bit of information:
"Tinker Hatfield, conceived the idea and design, and then had Jason Humble who is a former Oregon Track Athlete and currently a fantastic shoe developer in Nike Sportswear, work with the U of O Track Coaches, to work out the particulars for this limited edition shoe. (For U of O only). University of Oregon is a top tier Track and Field program with elite athletes that compete for the NCAA Division One National championships every year. Tinker was a Track Athlete there back in the day. 1972 -76. During that time He drew up a logo for the team, using two Ducks, one black and one white. It was a hit with the team and got used on a sweat suit. Tinker thought it would be good to bring it back using the more modernized Duck."
Source: @Ducks_Equipment, djclarkkent