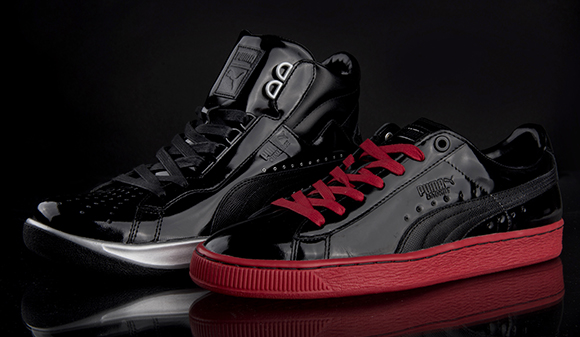 After Meek Mill and Puma's first successful launch on the 24K pack, they two are coming together once again to release a 'Patent' pack.
The patent pack will feature the classic Puma Basket and adding a new model, the Puma Challenge. Both pairs feature black patent leather across the uppers. The Basket uses red on the midsole and embossed formstripe. The Challenge features silver on the midsole and on the eyelets. Some of the Challenge design was actually inspired by the GV Special. The two share a perforated toe box, cushioned collar and a similar midsole.
The Meek Mill Puma Patent Basket releases on March 21st and the Patent Challenge will drop sometime in April. Both pairs will be available at The PUMA Lab Powered by Foot Locker, select Villa locations, and Shiekh shoes.