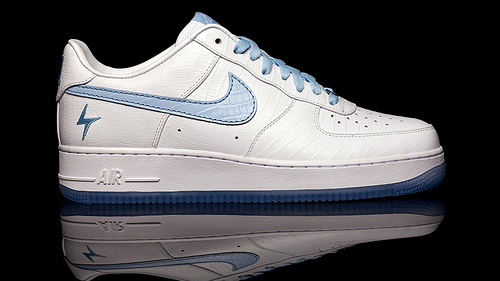 For the release of the Ladainian Tomlinson Nike Air Force 1 "LT 1 World" Quickstrike,  San Diego's "Attic" and "Blends" will release 50 pairs, and 21 random pairs will be signed by LaDainian Tomlinson. Both stores will be giving away one pair with tickets to the Chargers' night game against the New England Patriots. If you are the lucky one that receives the tickets, you and a guest will be car-serviced to the game, where you will enjoy plaza level tickets with access to the lightning pavilion!
The sneakers will release at both spots on October 12, 2008 at 2pm.
Attic will have an X Box Room (compliments of Microsoft) and some yummy food so that you can enjoy the game at the store. Early arrival at both stores is highly suggested.
Attic San Diego
920 5th Avenue
San Diego CA 92101
619.234.1534
Blends San Diego
728 Market Street
San Diego, Ca 92101
619.233.6126