After hearing rumors and seeing random pics of the Air Yeezy 2 "Red" float around within the past couple of months, the shoe suddenly was pushed into public's consciousness by Mr. and Mrs. Yeezy, with a Tweet by Kanye West's lady starting off the madness, followed by Kanye himself wearing the "Red" Yeezy 2 during his SNL performance. Is this a sign of things to come?
Kim Kardashian, Kanye West's baby momma, sent out a Tweet last night which might be the first concrete sign of the shoe actually releasing. The tweet, showing a copy of Yeezy's new album "Yeezus" and the bottom half of the Air Yeezy 2 "Red", takes things to a new level, as it's the first time anyone in West's camp has mentioned the shoe by name. Featuring the hashtag "#RedYeezys", the Tweet was the first real indication that this shoe might release. Little did we know that an hour later, we'd actually see the man himself rocking them onstage, for millions to see on their TV screens.
During his first of 2 performances on SNL that evening, Yeezy could be seen wearing the Air Yeezy 2 "Red" on stage. While it was hard to see much of anything on stage, due to the dark lighting, a red flash here and there could be seen during some of Kanye's more vigorous movements, red shoes cutting through a beam of light, with every high-kick and wild movement.
What do you think about the "Red" Yeezy 2? Is this a "RoboCop" for you, because these are so "Gorgeous"? Or do you think of "Two Words" when you see these: "So Appalled"? Let us know in the comments below!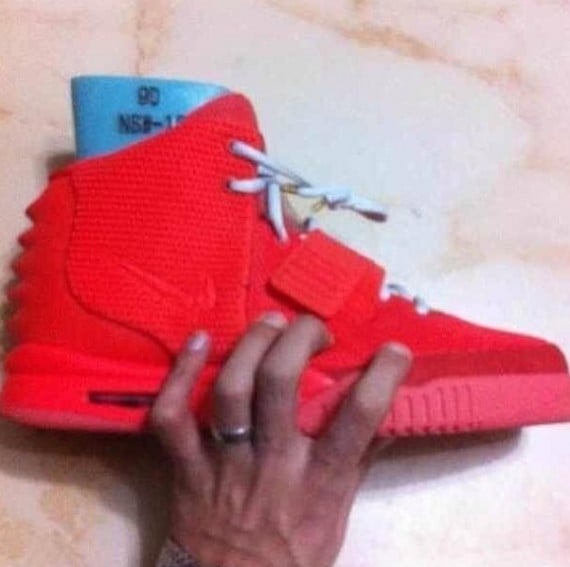 Via Twitter