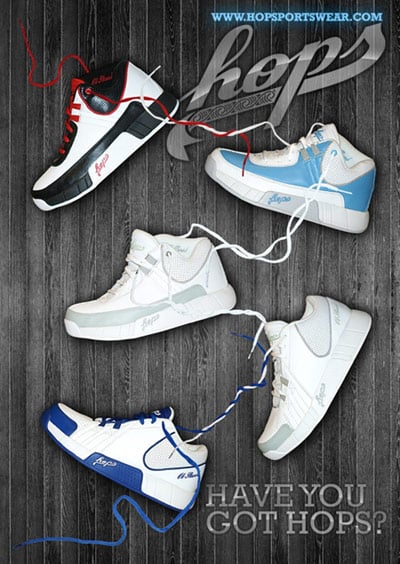 This month saw the US release of a new performance footwear brand known as Hops Sportswear. While we had provided you with a performance review at that time from Slam Magazine, we now have an even more detailed and informational performance review from Bryan Hinkle over at Counterkicks.

The review sheds light on both the positive and negative aspects on Hops' first run at performance basketball sneakers. Click HERE to read the detailed review.


What makes Hops different?

If you look at the inside of the sneaker you will see over the Medial Wing a grey squiggly pattern. This type of EVA is called Dual Density. Throughout the whole outsole Hops uses a new type of EVA which is 25% lighter than conventional EVA used by many brands. EVA is used because it has a soft cushioning feeling which contributes to shock absorption when landing. The use of Dual Density contributes to the effectiveness of the Medial Wing so when you move laterally on the court it helps keep the foot stable and planted because it doesn't "give" like normal EVA in these aggressive movements. It stays firm and intact and works with the Medial Wing to offer that stability required for high on court performance. Being able to offer more stability and balance when playing, can lead to less stress and injuries caused on ankles, feet and lower legs.


Via
Counterkicks