Earlier this summer, Converse invited me to experiment with their Converse ONE initiative, an "ID" service that allows the consumer to invent their own color combinations and graft logos or personal memorandums onto their kicks. I revised a pair of Pro Leather '76 Mids several months ago (hit the link to read more about ONE's blueprint and my quibbles with its piddling color palette) and got the opportunity to transform the Weapon '86 in June. Via: Bounce.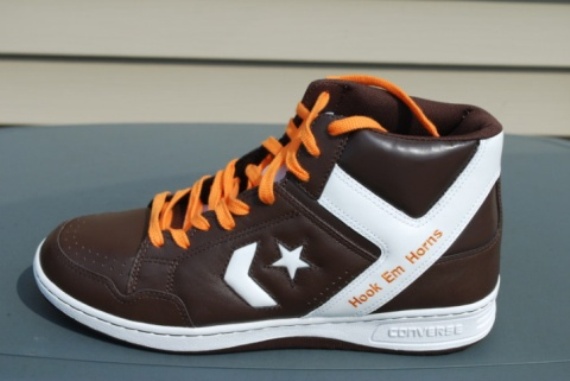 Now, the Weapon isn't just an ordinary shoe for this author. My pops wore 'em his senior year of college and I sported the re-release in '03 as a seventh grader. My jumper was stuck in the impervious bonds of puberty that year, but, man, the "Weapsies" (As a pal lovingly deemed them–we were really weird, I think.) had power! I distinctly remember a small legion of fans chanting at me in warm-ups asking about the flavor below the ankles. Kids asked about them in games, too! This was a chance to assemble my very own '86; I knew I had to "bring it."

I ruminated over my handiwork on ONE's 360 ViewFinder for nearly an hour, searching for a style that vibed with my motivations. I wasn't having any of it. Then, my boy came through on some "let's lift" steez rockin' a Texas Longhorns tee. I spent a few minutes reminiscing in this gem and got to work. I envisioned "Flower Power" or "Whither Durant?" stitched 'cross the Y-Bar in burnt orange but decided against it. After all, a ravishing Southern belle could stroll through my life's periphery at any moment and wouldn't want to err, and certainly do not want Texas thinking that I'm "messing with it."

I decided on the all-too established "Hook Em Horns" mantra but am pleased with the results. (Note: Punctuation keys are not accessible in ConverseOne.) Brown leather upper, white patent Y-Bar, and burnt orange laces and contrast stitching. Whaddya think?