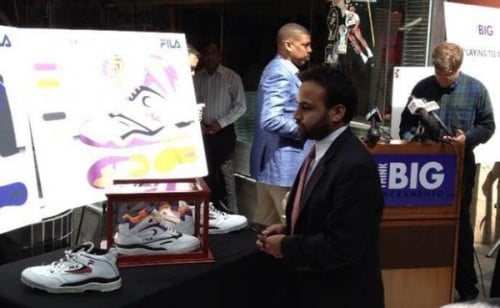 FILA has plans to bring back Kevin Johnson's KJ7!! KJ was the first NBA player to rock a pair of FILA's on the court and FILA is set to bring back a Phoenix Suns model, along with a Sacramento Kings colorway (who Johnson is the Mayor for).
Mayor Johnson announced today that sportswear maker Fila is reintroducing a KJ7 shoe next winter, honoring Johnson's days as an NBA star. Because he isn't allowed to accept royalties as mayor, Fila is making a $25,000 donation to the Sacramento Public Policy Foundation. Also, the company will make a donation of $25,000 to Think Big Sacramento, the task force devoted to building a new arena for the Kings.
Johnson said the money will be used for "fan experience" events in Sacramento.
Fila officials said the shoes will be introduced at next year's NBA All-Star Game. The KJ 7 will come in two colorways – a purple model in honor of the Kings and a purple and orange model in honor of Johnson's old team, the Phoenix Suns.