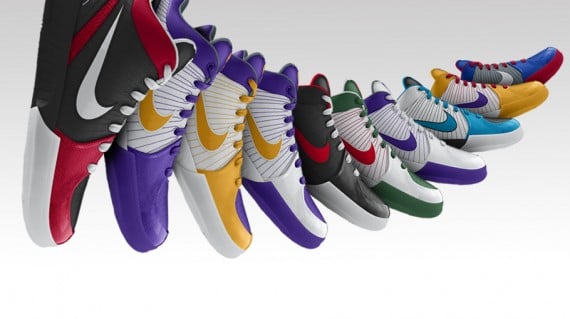 Beginning this Tuesday, August 16th, the very first Air Jordan flagship model will be made available on NikeiD.

We've had signature sneakers available for customization before with the Kobe IV being the first signature to be featured for consumers to personalize. Nike's Zoom KD3, Jordan 1 Alpha & the Jumpman Team Pro have all made themselves available as well.

I've heard, on more than one occasion, that Nike should allow some of the Air Jordan classics into the iD family. Could you image if any of the Air Jordan legacy models were available for you to customize? Being able to create some of your favorite Air Jordan's in any colorway you can fathom… or at least any colorway the iD options will allow.

Some already say that with so many new colorways being churned out of the factories, their beloved Retro models are being ruined… tarnishing the legacy behind the line. If a NikeiD Retro release were to ever happen; would this be considered the same? At this point there are some great running classics & the Nike Dunk, other than those… there are no classic models available for customization.

Honestly, in my opinion, it would really depend on which model is released and what the iD options were. I think the concept of expanding the iD lineup would be great, however, I'd prefer to see other signature models available prior to any Air Jordan Retro. What if they enabled the Nike Air Penny II onto NikeiD… Air Max CB34, Pippen 1 or even the Nike Zoom Glove? I'd much rather have the option to create some of the other 'lesser talked about' classics before we dive completely into an Air Jordan Retro iD craze.

What are your thoughts; would you like to see Air Jordan Retro's on NikeiD, if so which model(s)? How about some of the other greats from yesteryear? Which shoe would you choose, if you could only choose one, to be placed on NikeiD? Maybe you'd prefer to leave well enough alone in order to prevent further tarnishing some of your favorite sneakers.

Whatever the case may be, let us know in the comment section below.