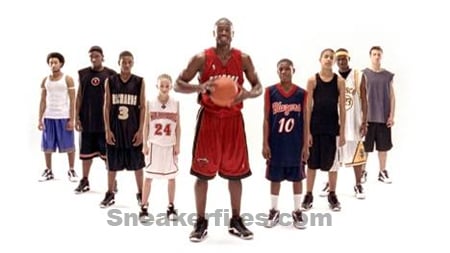 The new Converse Wade 2.0 commercial will make its debut appearance tonight during the TNT's game. We also have a behind the scene look at the "All In" commercial with a interview with Dwayne Wade. In the background is a special song that Rick Ross made for the commercial. Remember who brought you this first, Sneakerfiles.com.
(Click "more" to see the commercial, additional information and behind the scenes)

All In Converse Wade 2.0 Commercial
All In Converse Wade 2.0 Behind the Scenes
Additional Information
As you know, Converse introduced NBA star Dwyane Wade's newest signature shoe, WADE 2.0, and apparel line at the NBA All-Star Game in Las Vegas. The product launch continues with the debut of Converse's fully-integrated advertising campaign called "ALL IN," tonight, when the spot premieres on TNT Sports
The "ALL IN" concept comes to life in print, out-of-home and television executions, which portray a wide variety of basketball players engaged in the game alongside Wade. The "ALL IN" tagline serves as an equalizer between the NBA star and players of all levels. From kids to adults, the campaign celebrates the passion of playing basketball by a diverse group of people.
Miami rap artist Rick Ross joined the "ALL IN" campaign by creating an original track for the television spots. In order to meet a growing trend in the youth market, the song is brought to life on video through an original video scratching technique by Video DJ Jordan Laws. Viewers will see Dwayne's moves video mixed in with those of his fellow players.
The "ALL IN" campaign was created by agency Butler, Shine, Stern & Partners in Sausalito, CA. The television campaign will begin airing tonight on national outlets including ESPN, BET, MTV, Comedy Central and TNT.
Converse's partnership with Wade began in 2003 when he first entered the NBA. The first Dwyane Wade signature shoe was introduced in 2005 with the ad campaign "Fall Seven Times. Stand Up Eight." His second signature shoe, WADE 1.3, was launched in the Fall of 2006 with the Spike Lee-directed campaign called "R3ADY?".