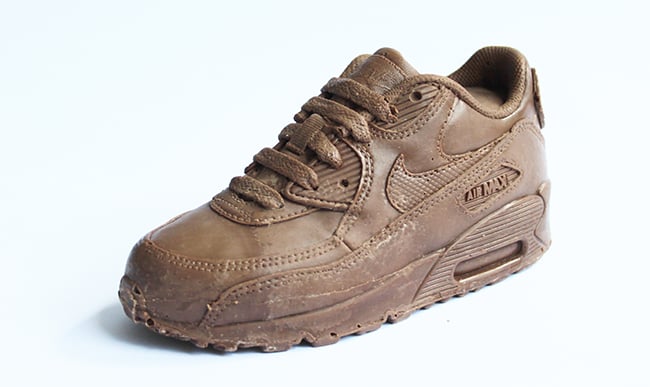 Chocolate lovers and sneakerheads will appreciate the process Milan Miladinov went through to create a pair of Nike Air Max 90s. As you can see, the shoes were created using chocolate, so of course not wearable.
Inspiration came from the newly release Cocojet Chocolate 3D Printing technology, which lead him to think of the culinary possibilities. Since he is a huge fan of the Air Max 90, he decided to take on the project.
First Milan had to create a silicon mold of the shoes, which lead him to wrapping a pair of the AM90s in plaster for the shape. After he poured in liquid silicon and allowed it to set. After waiting, he then carefully cut open the mold and removed the shoe. To make sure all the details were intact, he then crafted and 'painted' the mold.
After he had a perfect replica of the Nike Air Max 90, he melted down chocolate and filled the mold all the way. Now it was a waiting game. 15 hours later sitting at room temperature, we have a the Chocolate Nike Air Max 90. Below you can see more images of the edible art and stop by his Instagram @manlikemilan.