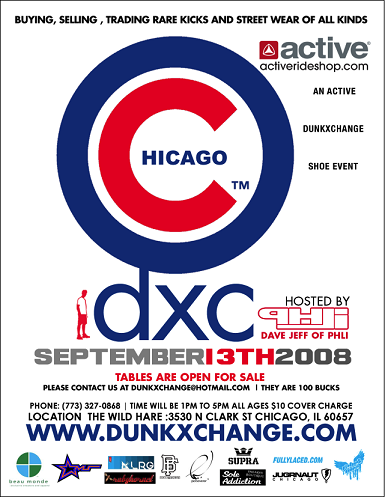 All Sponsors and Vendors Welcome!!!
DUNKXCHANGE: CHICAGO
SEPT 12TH AND 13TH PRESENTED BY ACTIVE!!!!SK8 DAY SEPT 12TH LOCATION TBA // TIME 4PM TO 6PMPRESALE TICKETS FOR DUNKXCHANGE $8 FREE PRIZES AND PRODUCT FOR WINNERS OF GAMES OF SKATE, BEST TRICKS ETC  
DUNKXCHANGE SEPT 13
LOCATION: THE WILD HARE3530 N Clark St Chicago, IL 60657 Phone: (773) 327-0868 THIS WILL BE THE ACTUAL DUNKXCHANGE WITH TRADING AND SELLING TIME WILL BE 1PM TO 5PM ALL AGES $10 COVER CHARGETABLES ARE OPEN FOR SALE, PLEASE CONTACT US AT [email protected] ($100) MORE INFO WILL BE UP SOON!!