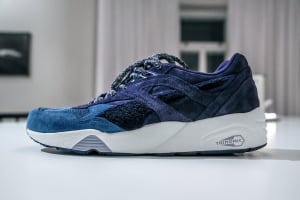 It's known that Puma loves to collaborate with other brands, to produce sneakers that represent a message or a movement. Just last month, the sneaker corporation partnered with Brooklyn We Go Hard to create another collaboration. The BWGH X Puma "Bluefield" R698 project features the archived Puma model in various shades of blue, and was inspired by Mark Rothko's Blue.  Hypebeast Magazine recently did an interview with BWGH co-founder, David Obadia, about the project.
"I wanted to do something different and PUMA's R698 silhouette was in-line with my idea," Obadia said. "Since I am deeply rooted in contemporary art, we mixed the DNA of PUMA with the BWGH DNA and as a result sports, fashion, and contemporary art is reflected in the design and style of the shoe."
Obadia discusses why he chose the R698 sneaker model, what the main inspiration was for the collaboration, and more. Check out the rest of the interview on Hypebeast!