Airwalk Womens Argyle Slip-On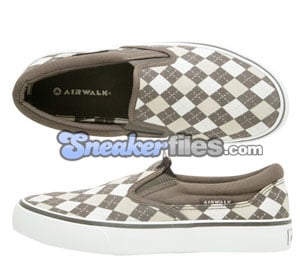 In an attempt to make back on to the sneaker scene, Airwalk takes a classic slip-on and places a simple agyle design on top of it. Made up of grey and white, these slip-ons offer women a chance to mix things up by wearing these sneakers during upcoming Fall season.
A design implemented by Vans/Alife not too long ago, Airwalk needs to take things back to the drawing board if they want to impress sneaker collectors. However, the upside to Airwalk is their low prices which include this model which retails for $19.99.
Brian Betschart
Founder and Editor of SF, Brian is considered an expert when it comes to sneakers. Collecting since he was in elementary school, his collection has grown to over 500 pairs and counting. Brian has published articles since 2004, and in 2006, he decided to create Sneaker Files.