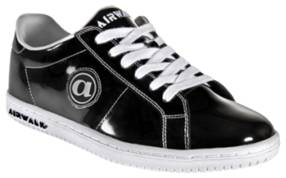 Airwalk has been bringing back tons of cult classics and the trend continues with the reintroduction of the JIM.

Originally released in '93, the JIM played homage to of the most frowned upon classes in educational history… Gym Class. While originally the JIM featured some strange (at the time) materials on the upper which include patent leather, pebbled leather and of course everyone's favorite Tennis ball felt; this bring back version uses what they call 'plastic', essentially black patent leather.

The JIM is the next installment of Airwalk's reissue series, which celebrates the company's 25th anniversary, will be made available this coming Monday, October 17th for $70 at Airwalk.com.