Air Jordan XIX – Air Jordan 19
Original Air Jordan 19 (XIX) Release Colorways
Air Jordan 19 (XIX) Original White / Chrome / Flint Grey – Black
Air Jordan 19 (XIX) Original Black / Varsity Red
Air Jordan 19 (XIX) Original West Coast Black / White – Metallic Silver
Air Jordan 19 (XIX) Original Midwest White / Varsity Red – Metallic Silver
Air Jordan 19 (XIX) Original East Coast White / Midnight Navy – Varsity Red
Air Jordan 19 (XIX) Original Low White / White – Black – Cement Grey
Air Jordan 19 (XIX) Original Low Black / Metallic Silver – Varsity Red
Air Jordan 19 (XIX) Original Low Neutral Grey / Black – Light Graphite
Air Jordan 19 (XIX) Original Low Obsidian / Vapor
Air Jordan 19 (XIX) Original Low Cinder / British Khaki
Air Jordan 19 (XIX) Original SE Olympic White / Metallic Gold – Midnight Navy
Air Jordan 19 (XIX) Original SE Black / Metallic Gold
Air Jordan 19 (XIX) Original SE East Coast White / Flint Grey – Deep Red
Air Jordan 19 (XIX) Original SE West Coast White / Metallic Gold – Varsity Purple
Retro Air Jordan 19 (XIX) Release Colorways
Air Jordan 19 (XIX) Retro Black / Chrome – Varsity Red Countdown Pack
Air Jordan 19 (XIX) History
Tate Kuerbis is back to design the Air Jordan 19, but he is not alone. With Tate is Jason Mayden, Wilson Smith, Josh Heard, and Suzette Henri. The new steps taken in the design of the Air Jordan XIX would need them all.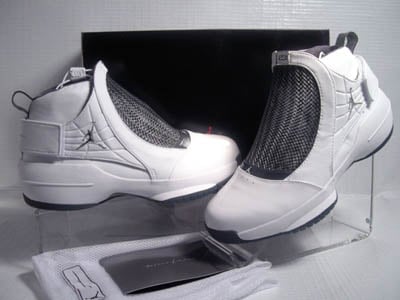 Inspiration for the Air Jordan 19 came from the deadliest snake in the world, the black mamba. When the black mamba feels threatened, it raises its body up in the air, shows its fangs, and makes a loud hissing sound. That alone intimidated many, does that sound like a familiar someone?Never before seen on a basketball shoe was a material called tech-flex.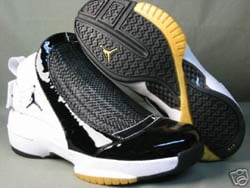 This material is used in the automobile industry. Tech-flex is a material which can stretch, and since it is used on the Air Jordan XIX it gave your foot the comfort you need.
Some great qualities of the Air Jordan XIX is a carbon fiber shank plate, phylon midsole, full-length zoom air unit, patent leather toe box, tech-flex upper, Velcro heel strap and plastic lace-locks.
The Air Jordan 19 box was unique, and when you opened the box, it kind of broke from the middle, instead of the normal open from the top or side. Each shoe is in a Air Jordan net bag.
On the Air Jordan XVI XVII, modified models came as "+", and on the Air Jordan XVIII modified models came as XVIII.5 or 18.5. Now on the Air Jordan XIX modified models came as SE (which stands for Special Edition).
In 2004 when the Air Jordan XIX released, five colorways released, and three were in a "Regional Pack", with retail set at $165.00. Four Low models were released ($115.00) and four SE models as well ($165.00).